PISSARRO, Camille (1830-1903)
Autograph letter signed « C. Pissarro » to Noël Clément-Janin
Paris, 19th Feb[ruary] 1892, 1 p. 1/2 in-8°, with envelope
« Turner, Delacroix, Corot, Courbet, Daumier, Jongkind, Manet, Degas, Monet, Renoir, Cézanne, Guillaumin, Sisley, Seurat ! This is our march. »
EUR 9.000,-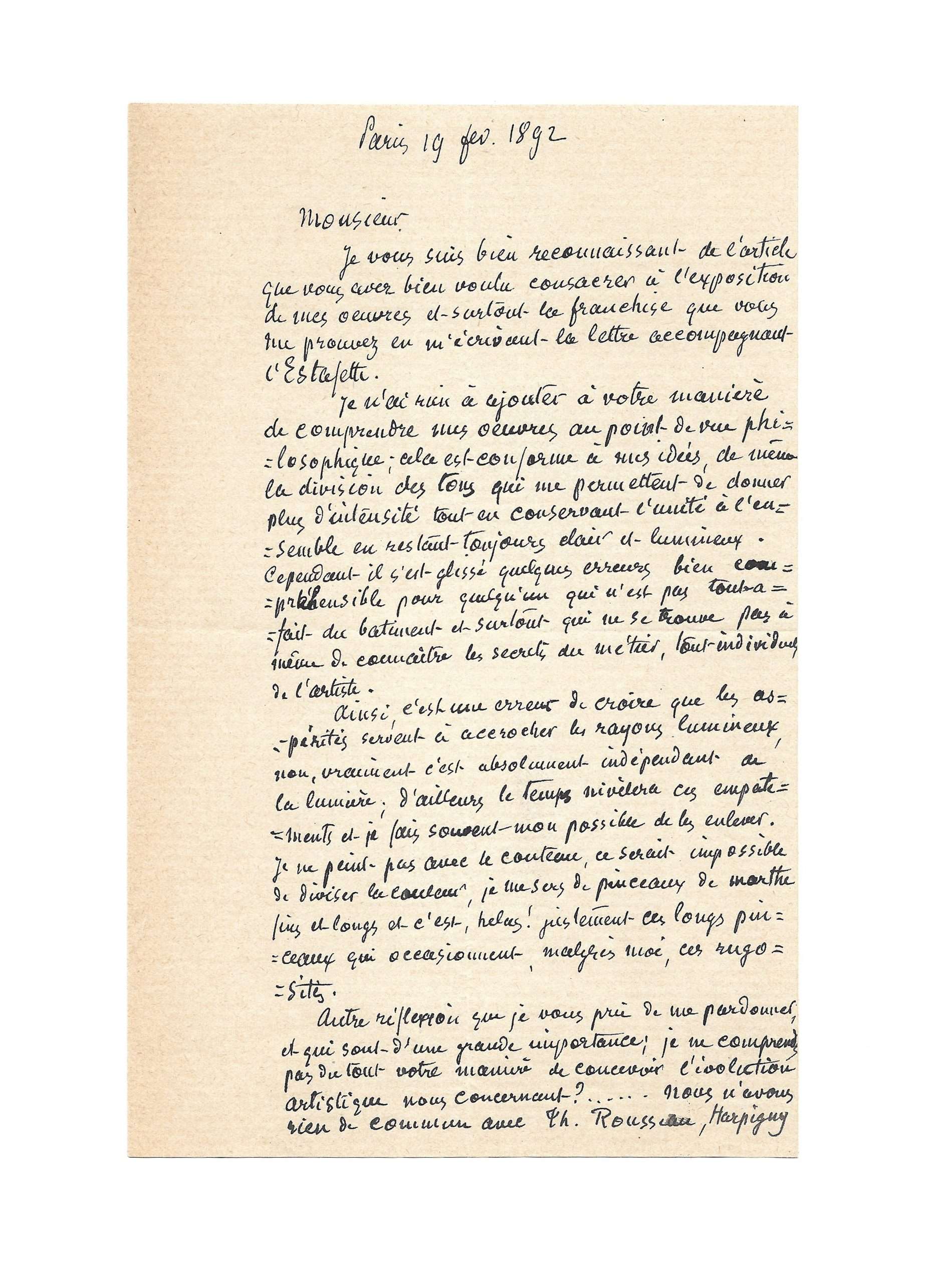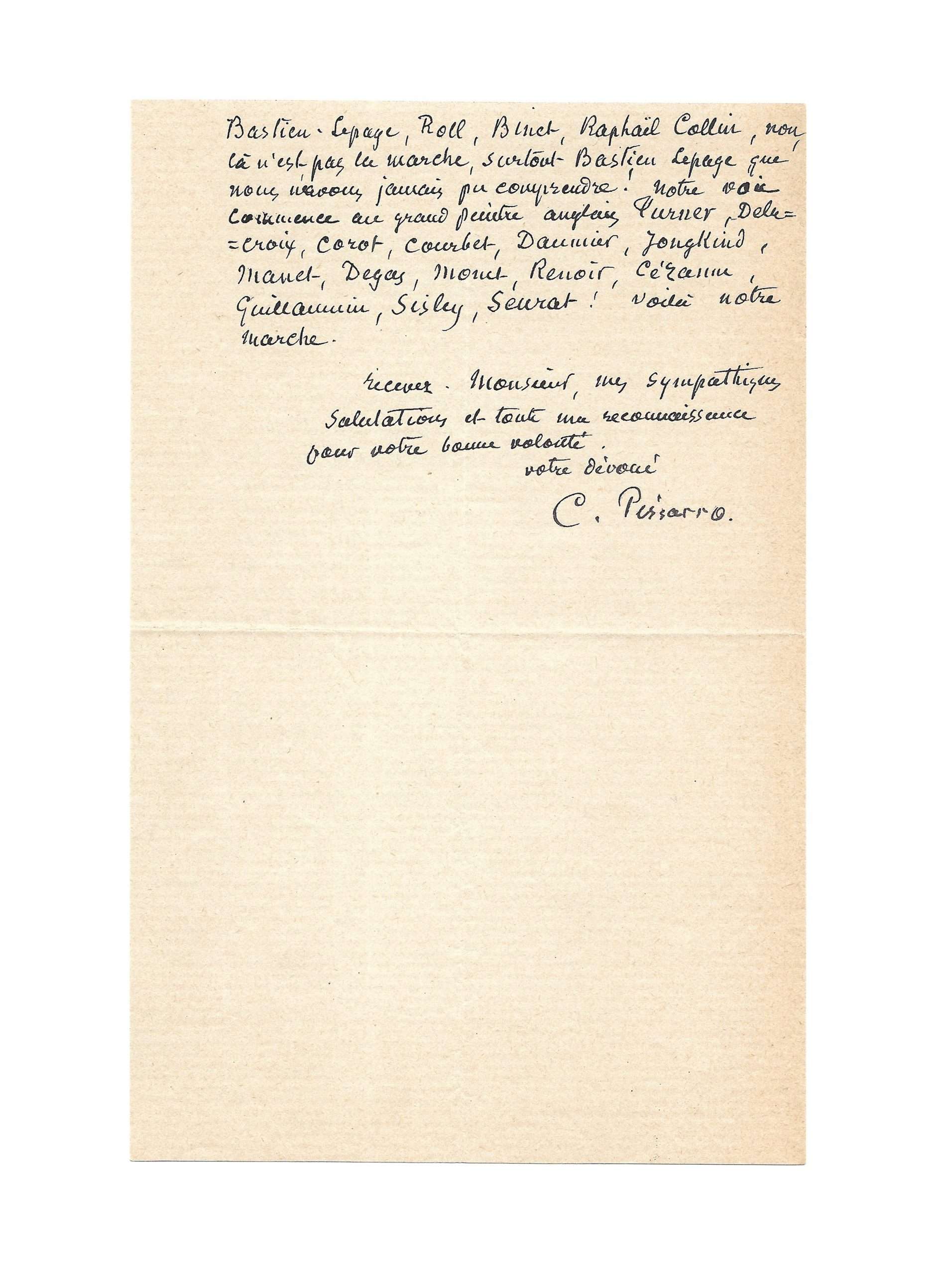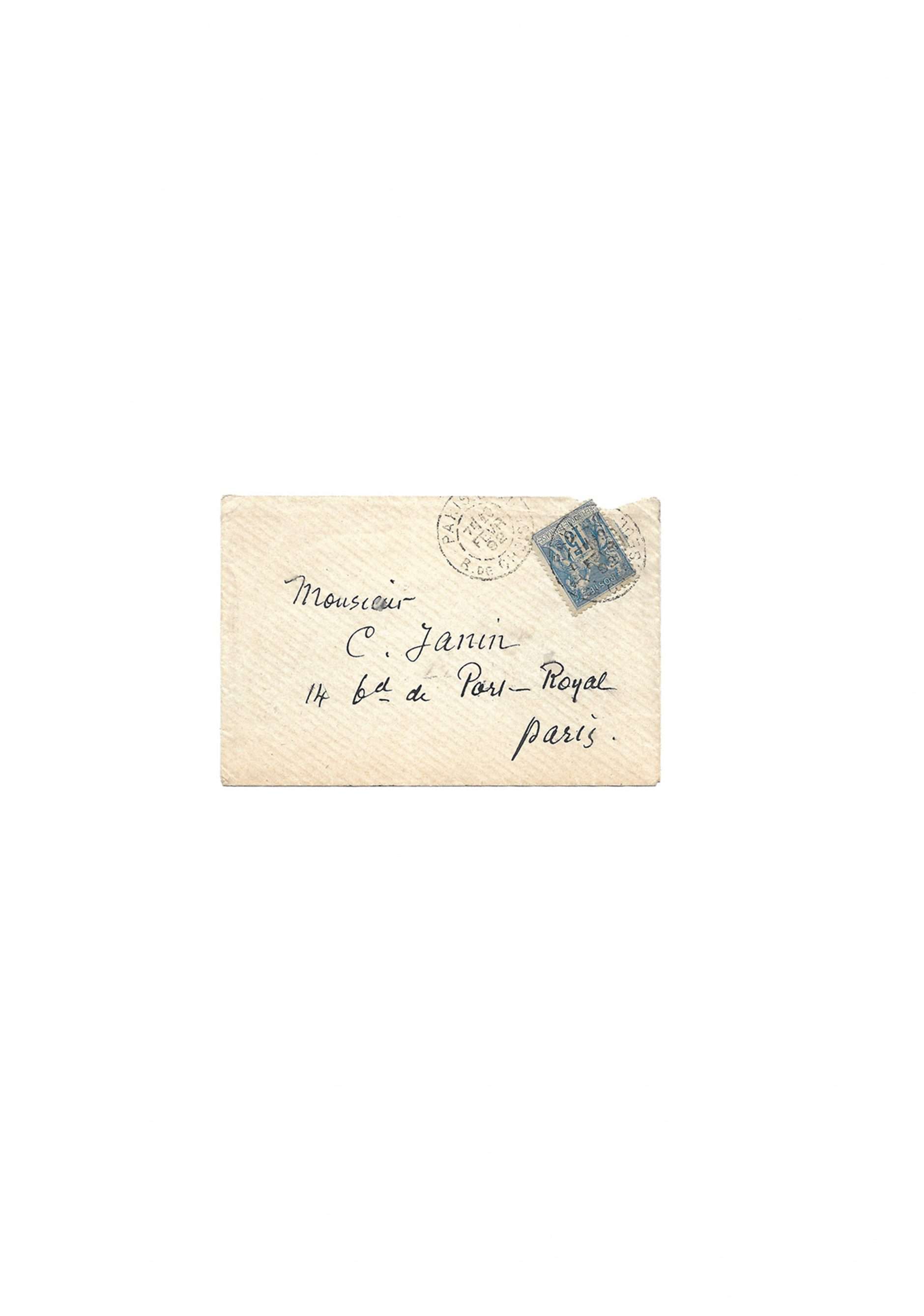 Fact sheet
PISSARRO, Camille (1830-1903)
Autograph letter signed « C. Pissarro » to Noël Clément-Janin
Paris, 19th Feb[ruary] 1892, 1 p. 1/2 in-8°, with envelope
Wonderful letter from the master in response to a column published on the sidelines of an exhibition of his works at Durand-Ruel
Pissarro opens up in detail about his painting technique and ends his letter with a chronological evolution of the artists to which his artistic movement is attached
---
« Monsieur
Je vous suis bien reconnaissant de l'article que vous avez bien voulu consacrer à l'exposition de mes œuvres et surtout la franchise que vous me prouvez en m'écrivant la lettre accompagnant l'Estafette [journal dans lequel parut la chronique en question].
Je n'ai rien à ajouter à votre manière de comprendre mes œuvres au point de vue philosophique, cela est conforme à mes idées, de même la division des tons qui me permettent de donner plus d'intensité tout en conservant l'unité à l'ensemble en restant toujours clair et lumineux.
Cependant il s'est glissé quelques erreurs bien compréhensibles pour quelqu'un qui n'est pas tout à fait du bâtiment et surtout qui ne se trouve pas à même de connaître les secrets du métier, tout individuel de l'artiste.
Ainsi, c'est une erreur de croire que les aspérités servent à accrocher les rayons lumineux, non, vraiment c'est absolument indépendant à la lumière ; d'ailleurs le temps nivellera ces empâtements et je fais souvent mon possible de les enlever.
Je ne peint pas avec le couteau, ce serait impossible de diviser la couleur, je me sers de pinceaux de marthe fins et longs et c'est, hélas ! justement ces longs pinceaux qui occasionnent, malgré moi, ces rugosités.
Autre réflexion que je vous prie de me pardonner et qui sont d'une grande importance ; je ne comprends pas du tout votre manière de concevoir l'évolution artistique nous concernant ?… nous n'avons rien en commun avec Th. Rousseau, Harpigny, Bastien-Lepage, Roll, Binet, Raphaël Collin, non là n'est pas la marche, surtout Bastien Lepage que nous n'avons jamais pu comprendre ! Notre voix commence au grand peintre anglais Turner, Delacroix, Corot, Courbet, Daumier, Jongkind, Manet, Degas, Monet, Renoir, Cézanne, Guillaumin, Sisley, Seurat ! Voilà notre marche. 
Recevez Monsieur, mes sympathiques salutations et toute ma reconnaissance pour votre bonne volonté.
Votre dévoué
C. Pissarro. »
---
Pissarro thanked his correspondent for a column that appeared on the front page of the newspaper L'Estafette on the sidelines of an exhibition of his paintings at Durand-Ruel.
Although the artist appreciates Janin's "philosophical" understanding of his work, and more particularly on the division of tones, he nevertheless disapproves with the greatest tact on the rough edges which, those, do not allow "to catch the light rays". This was followed by a remarkable development of the master on his painting technique, as he very rarely expressed in all his correspondence.
Pissarro then wanted to rectify Janin's conception of "artistic evolution" as far as he and his Impressionist friends were concerned. Indeed, Janin seems in his article to want to link the Impressionists to the painters of the Barbizon school and naturalism. The artist strongly objects to this belonging, and especially to that of Bastien-Lepage, which he and his colleagues have "never been able to understand!"
Finally, Pissarro ends his letter with a superb chronological list of the masters to whom his current belongs, their "march" he says.
Reference:
L'Estafette – Journal Républicain, 18 février 1892