PRINCE IMPÉRIAL, Louis-Napoléon Bonaparte (1856-1879)
Autograph letter signed « Louis Napoléon » to his friend Pierre de Bourgoing
Camden place, 23rd October 1870, 2 p. in-8° on bifolio
« England will never be worth France ! »

EUR 2.900,-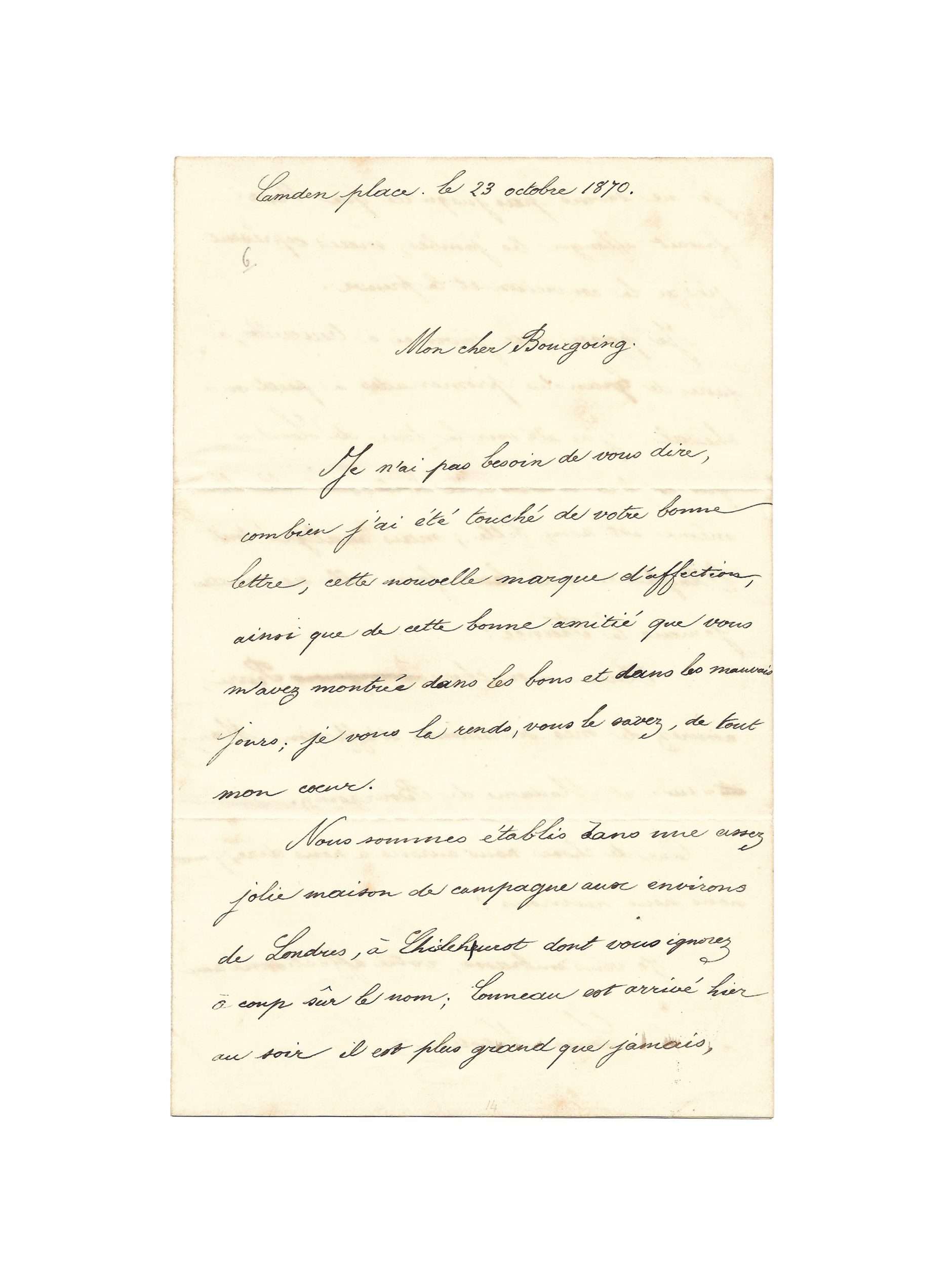 Fact sheet
PRINCE IMPÉRIAL, Louis-Napoléon Bonaparte (1856-1879)
Autograph letter signed « Louis Napoléon » to his friend Pierre de Bourgoing
Camden place, 23rd October 1870, 2 p. in-8° on bifolio
Previous trace of mounting on fourth page
Scarce from the Prince Imperial, then 14 years old, in the very first days of exile, less than two months after the defeat of Sedan
---
« Mon cher Bourgoing,
Je n'ai pas besoin de vous dire combien j'ai été touché de votre bonne lettre, cette nouvelle marque d'affection, ainsi que de cette bonne amitié que vous m'avez montrée dans les bons et dans les mauvais jours ; je vous la rends vous le savez, de tout mon cœur.
Nous sommes établis dans une assez jolie maison de campagne aux environs de Londres, à Chislehurst, dont vous ignorez à coup sûr le nom(1) ; Conneau(2) est arrivé hier au soir, il est plus grand que jamais ; je ne savais pas jusqu'ici que l'exil faisait allonger les jambes, mais à présent j'en ai la conviction et la preuve.
Je passe ma journée à travailler, à faire de lo[ngues] grandes promenades à pied ou à cheval(3).
J'ai été voir la Tour de Londres qui est très curieuse à visiter(4), la ville elle-même est assez belle, mais malgré tout l'Angleterre aura beau faire elle ne vaudra jamais la France !
Adieu mon cher Bourgoing Pierre, assurez de mes sentiments d'affection M. et Mme de Bourgoing. Que de choses nous aurons à nous dire quand nous nous reverrons(5) ! Je vous embrasse, votre affectionné ami.
Louis-Napoléon »
---
After the capitulation of Sedan, the Prince Imperial was taken on September 4 to Maubeuge, the same day that Empress Eugenie left the Tuileries in tragic conditions.
On September 6, the young Louis Napoleon arrived on English soil, at Hastings; he was joined by his mother on 8 September and by his tutor, Augustin Filon, the next day.
It was quickly decided to look for a home other than the Marine Hotel, a "fortune" residence, where circumstances had led them. The choice fell on an old red-brick building, of a certain charm, whose village – supreme consolation – housed a Catholic church: Camden Place, in Chislehurst.
[1] On September 24, 1870, the Empress and Prince Imperial moved into a house in Chislehurst, Kent, called Camden Place, named after the famous antiquarian, Lord Camden, who had lived there in the early seventeenth century. "The Prince entered a pale and melancholy child; eight years later he would emerge a proud and bold young man, radiant with intelligence, brimming with energy, happy to live, drunk with action" (Augustin Filon).
[2] Louis Conneau (1856-1930), – son of the senator and doctor of Napoleon III, Henri Conneau -, was part of the small plethora of comrades, among whom the young Louis Napoleon chose his definitive friendships. After the fall of the Empire, he followed the Prince Imperial into exile. He was to occupy the room at Camden Place above that of the son of the deposed Emperor.
[3] Mr. Jean-Claude Lachnitt describes, in his biography of the Prince Imperial, the one-day program: "Rise at six o'clock, breakfast in the English way, then work all morning until eleven o'clock. After lunch, physical exercise, most often horseback riding or outdoor games".
[4] The Prince visited the Tower of London in the company of Augustin Filon, the Duchess of Mouchy and Princess Pauline de Metternich, both close friends of the Empress.
[5] Louis did not see Pierre de Bourgoing again until December 1871.
Provenance:
Estate of Abbé Misset
Then personal collection of  H.I.H le Prince Victor Napoléon (inventory #6300)