PROUST, Marcel (1871-1922)
Autograph letter signed « Marcel » to Robert de Billy
S.l [Paris], between the 11th and the 14th of January 1912, 4 p. in-8°
« Above all, do not send me back the previous 500. You will give them back to me when you come, or give me a sentimental pleasure by never returning them to me and giving me the illusion of maintaining a lady with whom you would have romantic relations »

EUR 4.800,-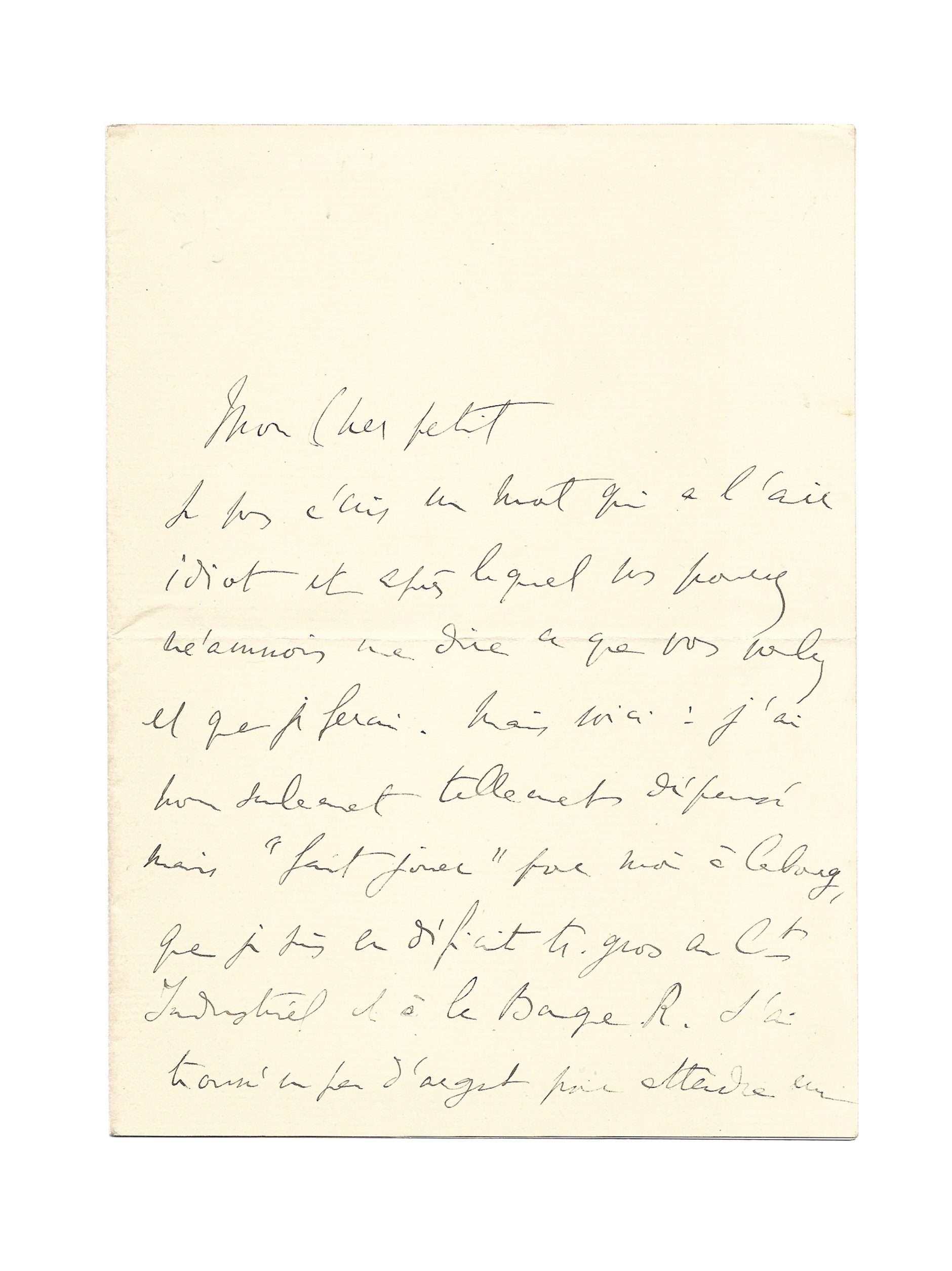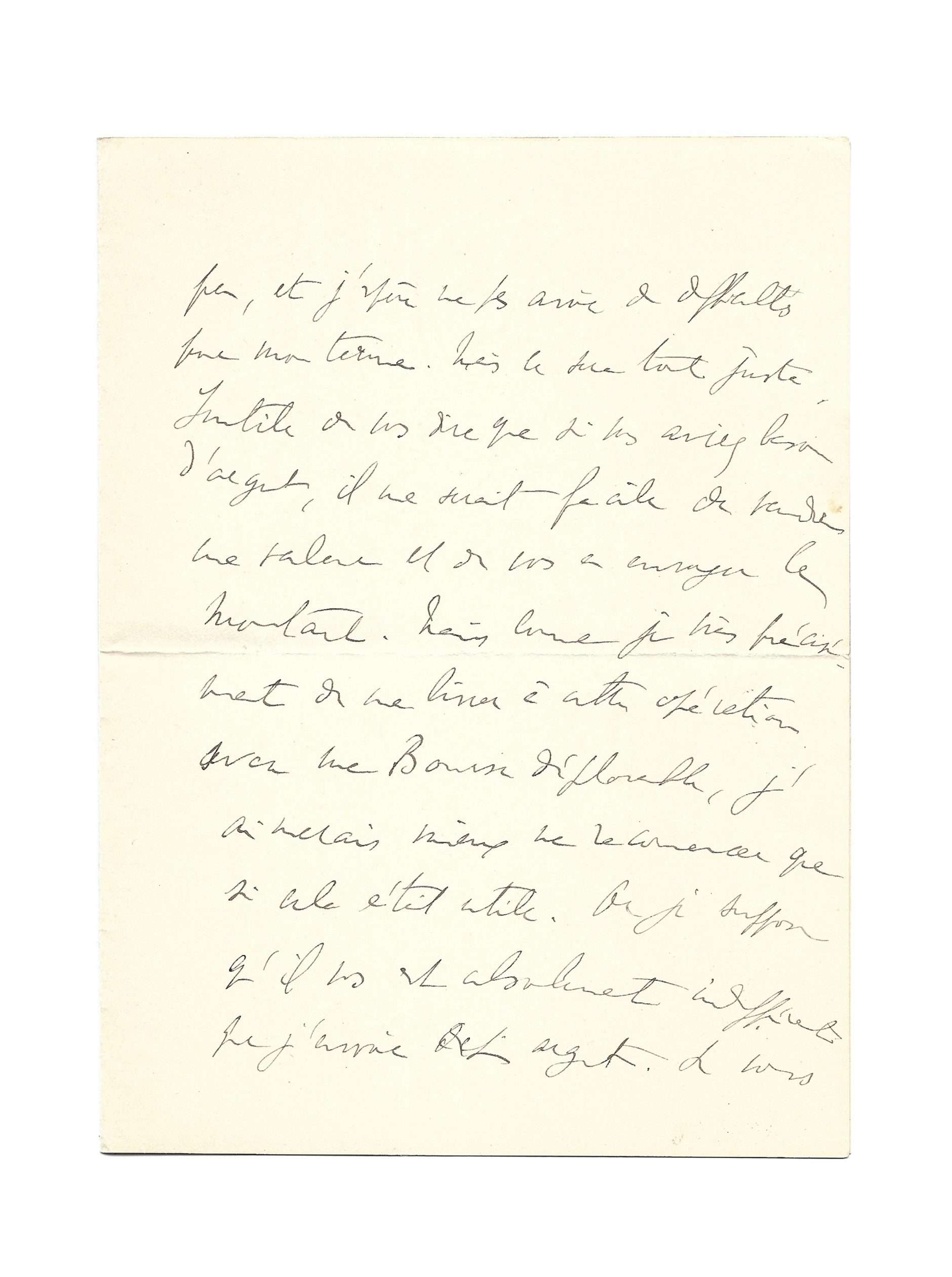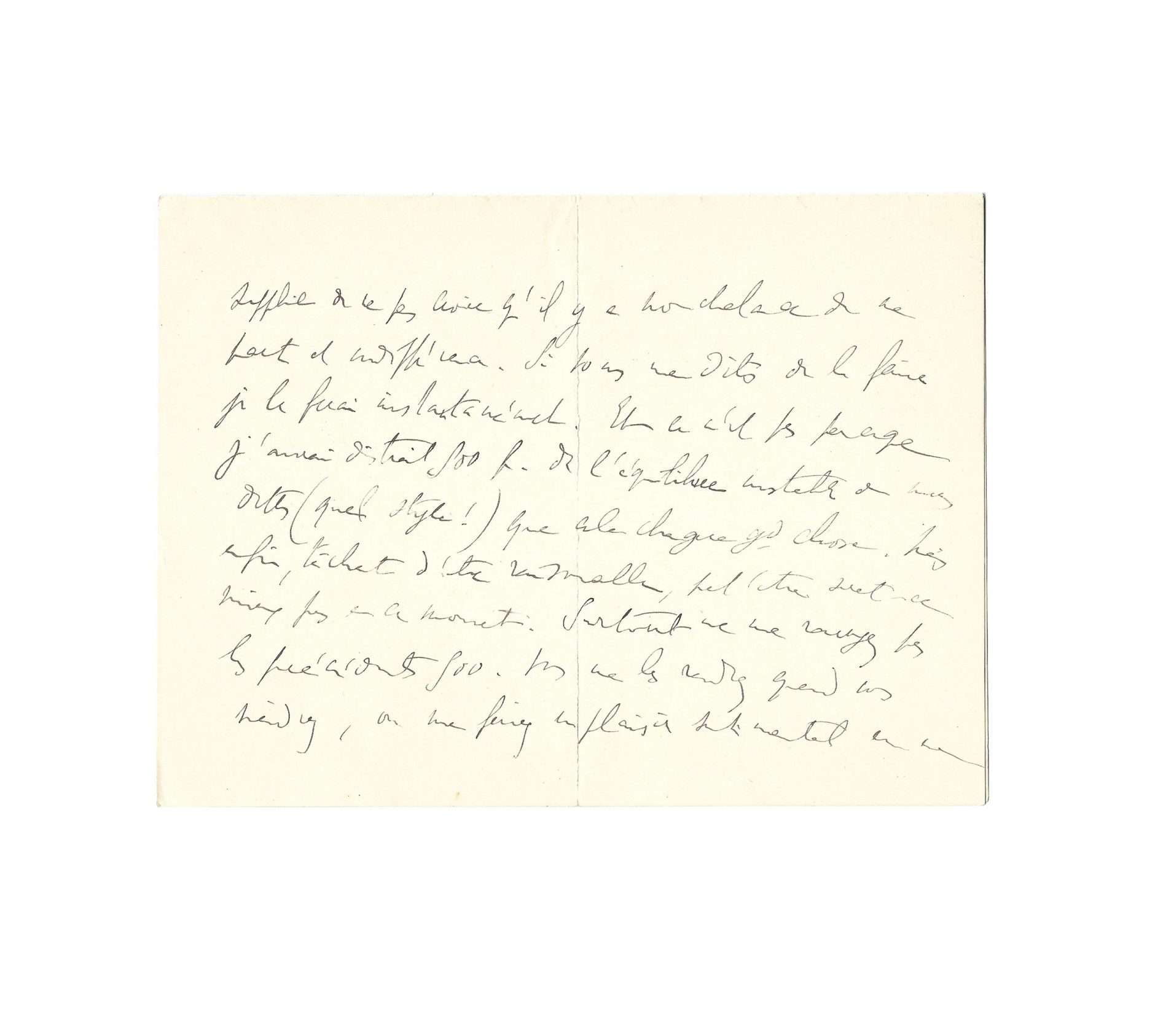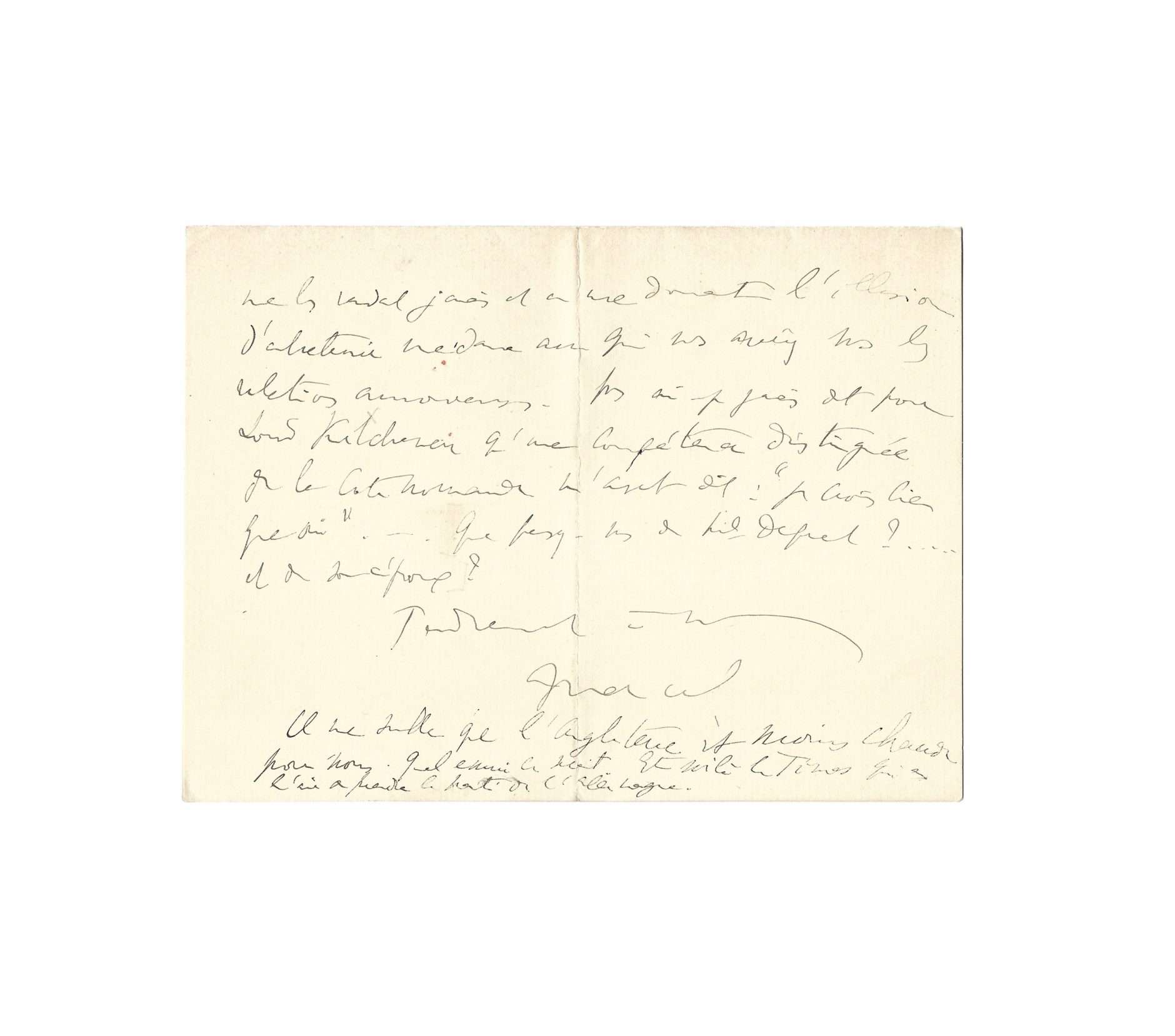 Fact sheet
PROUST, Marcel (1871-1922)
Autograph letter signed « Marcel » to Robert de Billy
S.l [Paris], between the 11th and the 14th of January 1912, 4 p. in-8°
Period central fold mark
Proust went into debt after having lost at gambling in Cabourg and on the stock market
---
« Mon cher petit
Je vous écris un mot qui a l'air idiot et après lequel vous pourrez néanmoins me dire ce que vous voulez et que je ferai. Mais voici : j'ai non seulement tellement dépensé mais "fait jouer" pour moi à Cabourg, que je suis en déficit très gros au Crédit Industriel et à la Banque R. [Rothschild]. J'ai trouvé un peu d'argent pour attendre un peu, et j'espère ne pas avoir de difficultés pour mon terme. Mais ce sera tout juste. Inutile de vous dire que si vous aviez besoin d'argent, il me serait facile de vendre une valeur et de vous en envoyer le montant. Mais comme je viens précisément de me livrer à cette opération avec une Bourse déplorable, j'aimerais mieux ne recommencer que si cela était utile. Or je suppose qu'il vous est absolument indifférent que j'envoie cet argent. Je vous supplie de ne pas croire qu'il y a nonchalance de ma part et indifférence. Si vous me dites de le faire je le ferai instantanément. Et ce n'est pas parce que j'aurais distrait 500 fr. de l'équilibre instable de mes dettes (quel style !) que cela changera grand chose. Mais enfin, tâchant d'être raisonnable, peut'être serait-ce mieux pas en ce moment. Surtout ne me renvoyez pas les précédents 500. Vous me les rendrez quand vous viendrez, ou me feriez un plaisir sentimental en ne me les rendant jamais et en me donnant l'illusion d'entretenir une dame avec qui vous auriez vous les relations amoureuses. Vous ai-je jamais dit pour Lord Kitchener qu'une compétence distinguée de la côte normande m'avait dit : « je crois bien que oui »(1). Que pensez-vous de Me Depret ?(2)… et de son époux ?(3)
Tendrement à vous
Marcel
Il me semble que l'Angleterre est moins chaude pour nous. Quel ennui ce serait. Et voilà le Times qui a l'air de prendre le parti de l'Allemagne »(4).
---
Forced to return to Paris on October 1st, 1911, when the Grand Hôtel de Cabourg closed doors and after losing to gambling, Proust had Rand Mines bought through his secretary at the time, Albert Nahmias. Marcel Proust's stock market investments proved disastrous. He even alludes to it almost explicitly in The Search (see The Fugitive, Pléiade vol. 4. 219 and 1119).
Finally, it was Robert de Billy, previously a diplomat stationed in London from 1896 to 1899, who introduced Marcel Proust to the work of John Ruskin by offering him a copy of The Bible of Amiens in 1898.
References:
Correspondance de Marcel Proust, Philip Kolb, Plon, vol. XI, p. 27-28, lettre n° 5
Marcel Proust II – Biographie, Jean-Yves Tadié, Folio