RIMBAUD, Arthur (1854-1891)
Autograph manuscript signed twice « Rimbaud », to Armand Savouré
Harar, 30 March 1890, 1/2 p. in-4°
Unpublished receipt from Harar intended to Armand Savouré, the last before Rimbaud ceased all activity with him
EUR 45.000,-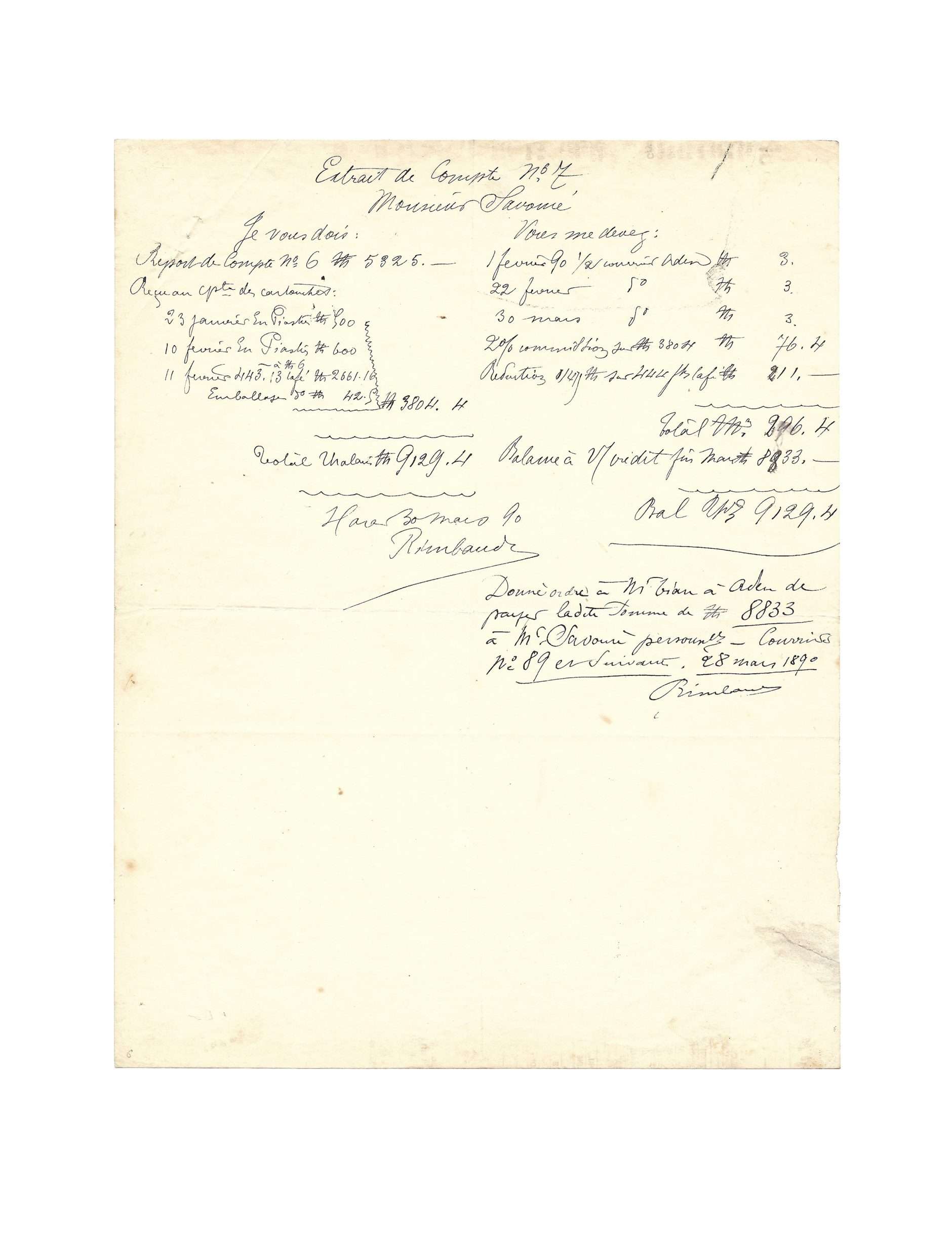 Fact sheet
RIMBAUD, Arthur (1854-1891)
Autograph manuscript signed twice « Rimbaud », to Armand Savouré
Harar, 30 March 1890, 1/2 p. in-4°, "R Turner Chafford Mills" watermark
Fold marks, tiny spots, slight tear repaired on lower right margin without affecting the text
Receipt from Harar intended to Armand Savouré, the last before Rimbaud ceased all activity with him
One of just two receipts signed twice and still in private hands
---
« Extrait de compte n°7,
Monsieur Savouré
Je vous dois : report de compte n°6 th 5 325. –
Reçu au cpte des cartouches : 23 janvier en piastres th 500.
10 février en piastres th 600.
11 février 443.13 café th 2 661.16.
Emballage 50 th 42.5.
Total thalaris 9 129.4.
Vous me devez :
1er février 90 ½ courrier Aden th 3.
22 février 50 th 3.
30 mars 50 th 3
2% commissions sur th 380 h th 76.4.
Réductions… sur 444… café th 211.
Total th 296.4.
Balance à V/crédit fin mars th 8 833.
Bal 9 129.4.
Harar 30 mars 90
Rimbaud.
Donné ordre à Mr. Vian à Aden de payer ladite somme de 8 833 à Mr. Savouré personnellement. Courrier n° 89 et suivant. 28 mars 1890.
Rimbaud »
---
Twenty-two autograph receipts from Rimbaud dating from his last stay at Harar (1888-1981) are known, half of which are in public collections (nine at the Jacques Doucet Literary Library, two in Charleville). This receipt, which has remained unpublished, is one of the longest in existence (seventy-five words), and one of the few to be signed twice.
Account statement n°7 follows six others, numbered in the same way, which have been published. It is probably the last in the series. Rimbaud wrote a rageous letter to Savouré less than a month later: "I had no need of your horrible coffees, bought at the cost of so much trouble with the Abyssinians […]".
The last great Rimbaldian adventure: the desert and weapons
Before joining Africa in 1878, Rimbaud roamed Europe: London, Brussels, Stuttgart, Naples, Milan, Liverpool, Vienna, Rotterdam, Stockholm… He planned to work in Alexandria, but eventually became a foreman in Cyprus. Subsequently, he went on to do small tasks as a coffee sorting supervisor, or a coffee buyer in Harar.
At the same time, in Africa, he paid close attention to the exploitation of musk, ivory and rubber. Then, as we well know, he embarked on arms trafficking in Tadjourah (now Djibouti) in October 1885. He continued by taking the lead of an important caravan to Ankober, crossing the deserts, the volcanic lands, to offer his goods to Menelik II (1844-1913), then king of central Ethiopia, soon that of Harar. The favors of the Abyssinian sovereign were solicited by the Europeans: after the opening of the Suez Canal, many wanted to establish a port on the Red Sea.
Christian and wishing weapons to extend his power, Menelik is quite willing to negotiate on this subject. He therefore welcomed with pleasure both the gifts of diplomats and the offers of traders, of which Rimbaud was a part of. The latter made his third and last trip to the Harar from May 1888 to April 1891.