SAND, George (1804-1876)
Autograph letter signed "GSand" [to Paul Porel]
Nohant, May 28 [18]76, 1 page in-8 in black ink
One of George Sand's last letters, a few days before her death
EUR 2.800,-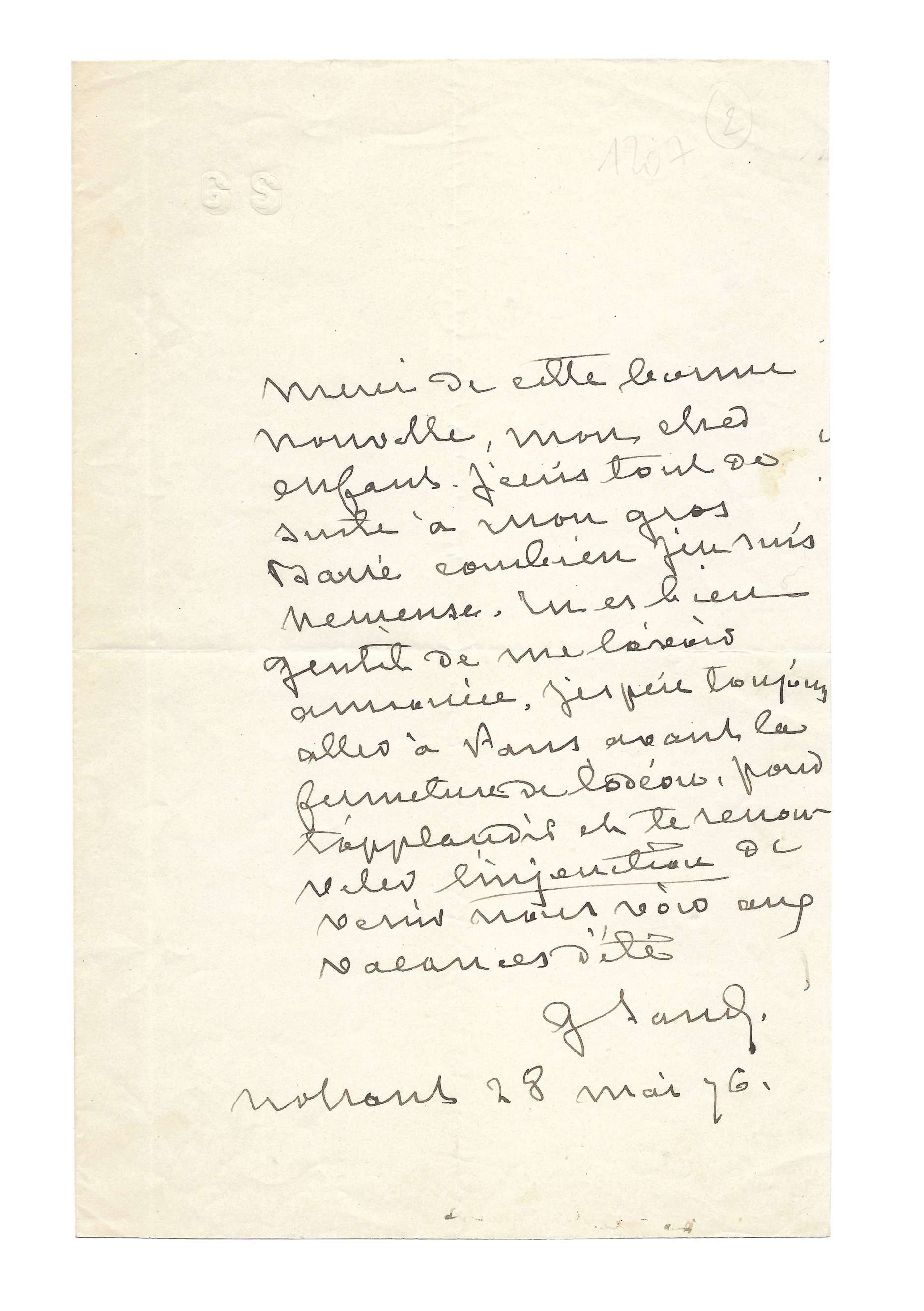 Fact sheet
SAND, George (1804-1876)
Autograph letter signed "GSand" [to Paul Porel]
Dry monogrammed G S initial on letterhead
Nohant, May 28 [18]76, 1 page in-8 in black ink
A moving letter, one of the very last, less than 10 days before her death
---
"Merci de cette bonne nouvelle, mon cher enfant. J'écris tout de suite à mon gros [Léopold] Barré combien je suis heureuse. Tu es bien gentil de me l'avoir annoncée. J'espère toujours aller à Paris avant la fermeture de l'Odéon, pour t'applaudir et te renouveler l'injonction de venir nous voir aux vacances d'été.
GSand
Nohant, 28 mai 76″
---
This moving letter is one of George Sand's last. After the three letters written on 28 May (one to Miss Marguerite Thuillier, the other to her doctor Henri Favre and finally this one), and a note in the Agenda on 29 May, she will take up the pen one last time on the 30th to write to her nephew Oscar Cazamajou (Corr. XXIV, p. 638)
George Sand, who died on 8 June 1876 of an intestinal obstruction, was already suffering of stomach pain on 28 May, as evidenced by her letter to Dr. Henri Favre: "I wonder where I am going and whether to expect a sudden departure one of these mornings. I'd rather know right away than by surprise." Her condition will deteriorate on May 30 before the symptoms worsen significantly on June 3. On June 7, in agony, she whispers to her daughter Solange, who is caring for her, and to her daughter-in-law Lina Calamatta: "Goodbye, farewell, I am dying." She died on June 8 at 10:00 a.m. in her 72nd year.
Paul Porel (1843-1917) is a French actor, director and theater director. He was married to the actress Réjane and was close to literary and musical circles, notably attending Alphonse Daudet, Emile Zola, Léon Hennique, George Sand, Gabriel Fauré etc.
This letter, unpublished in the correspondence edited by Lubin, will appear in the next volume of Nouvelles lettres retrouvées.
Provenance: René Vallet Archives