SÉVIGNÉ, Marie de Rabutin-Chantal, dite Madame de (1626-1696)
Document signed « Marie de Rabutin Chantal »
Paris, 30th July 1652, 1 p 1/2 in-8
Rare signature of the young Marquise de Sévigné
EUR 2.500,-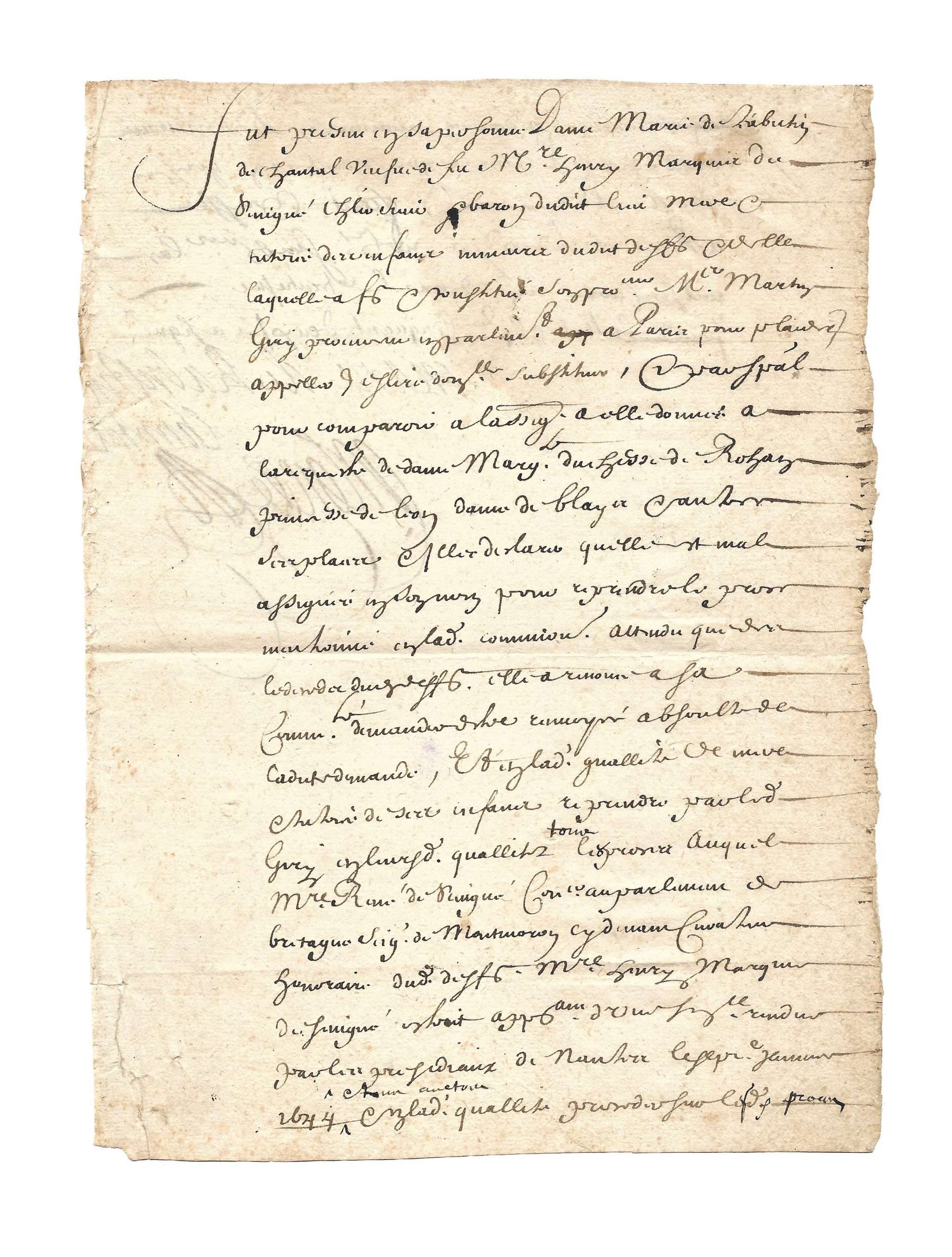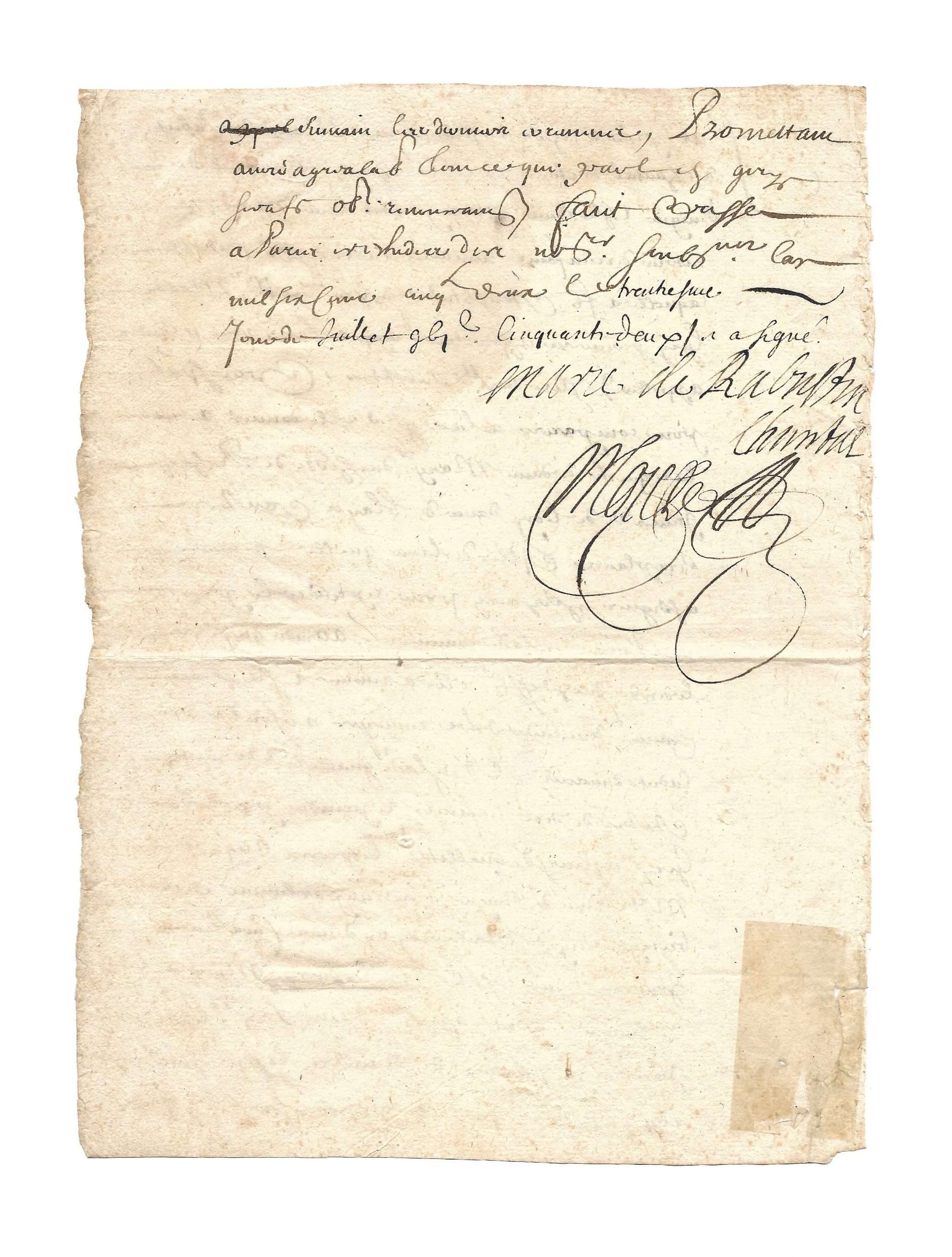 Fact sheet
SÉVIGNÉ, Marie de Rabutin-Chantal, dite Madame de (1626-1696)
Document signed « Marie de Rabutin Chantal »
Paris, 30th July 1652, 1 p 1/2 in-8
Fold mark, traces of wear on edges (see photos), old repair with tape
Rare signature of the young Marquise de Sévigné, just widowed and refusing to assume the debts of her late husband to the Duchess of Rohan
---
« Fut présent en sa personne dame Marie de Rabutin de Chantal, veusve de feu Monsieur Henry, marquis de Sévigné, chevalier, sieur et baron dudit lieu, mère et tutrice des enfans mineurs dudit de Sévigné et d'elle, laquelle a fait et constitué son procureur maître Martin Giry, procureur en parlement à Paris pour plaider, appeller et eslire domicile, substituer, et par espécial pour comparoir à l'assignation à elle donnés à la requeste de dame Marguerite, duchesse de Rohan, princesse de Léon, dame de Blayn et autres ses places et illec declarer [et elle déclare] qu'elle est mal assignée en son nom pour reprendre le prest mentionné en ladite communion, attendu que dès le décès dudit deffunct, elle a renoncé à sa communauté, demander d'estre renvoyée, absoulte de ladicte demande. Et en ladite quallité de mère et tutrice de ses enfans, reprendre par ledit Giry en leurs dites quallités tous les prests auquel Monsieur René de Sévigné, conseiller au parlement de Bretagne, seigneur de Montmoron cy-devant curateur honoraire dudit deffunct Monsieur Henry, marquis de Sévigné, estoit appelans des sentences rendus par les présidiaux de Nantes le premier janvier 1644 et tous auctres et en ladite quallité présider sur ledit procès suivant les derniers courriers. Promectans avoir agréable tout ce qui par ledit Giry sera fait, observant, renoncans. Fait et passé à Paris es estudes des notaires subsignés, l'an mil six cent cinquante
deux, le trentiesme jour de juillet. MVIC cinquante deux.
MARIE RABUTIN CHANTAL
Mosthe [notaire] »
---
The Marquise de Sévigné, married in 1644, lost her husband Henri de Sévigné in February 1651 during a duel with the Chevalier d'Albret. The two men, courting the same woman, came up with a duel. Henri leaves his wife two young children… and a very large amount of debts. During his lifetime, Henri did not hesitate to take out loans to be able to cover his mistresses with jewelry.
The Marquise, who loved her husband, lent him money, much to the displeasure of her parents and her uncle, the Abbé de Coulanges, who urged her to ask for a separation of property.