STENDHAL, Henri Beyle, dit (1783-1842)
Autograph letter to his sister, Pauline Périer-Lagrange
N.p, « Sunday », [13rd May 1810], 3 p. 1/4 in-4°
« My days here are filled by a woman, whom I am not in love with, but whom I constantly think about »
EUR 6.000,-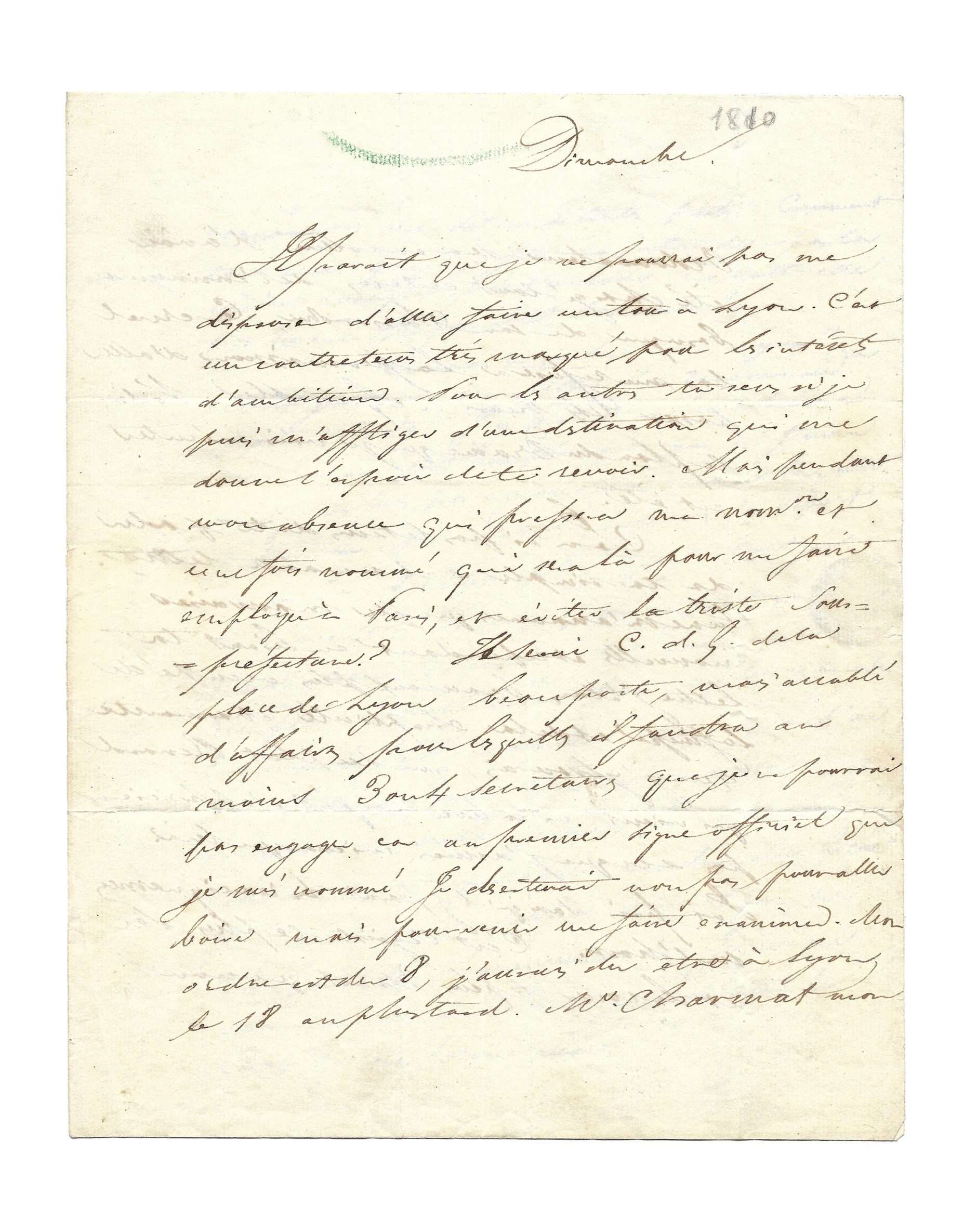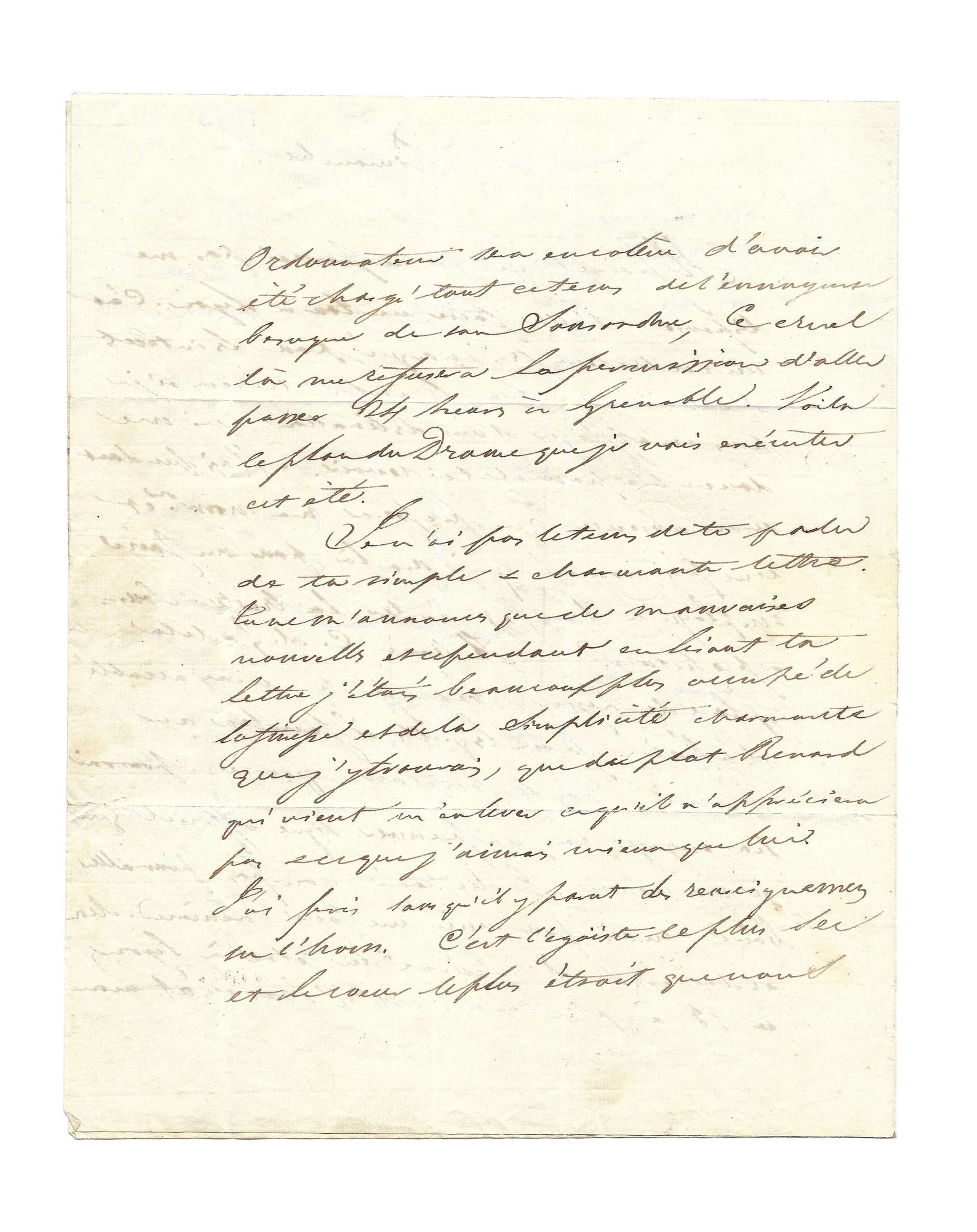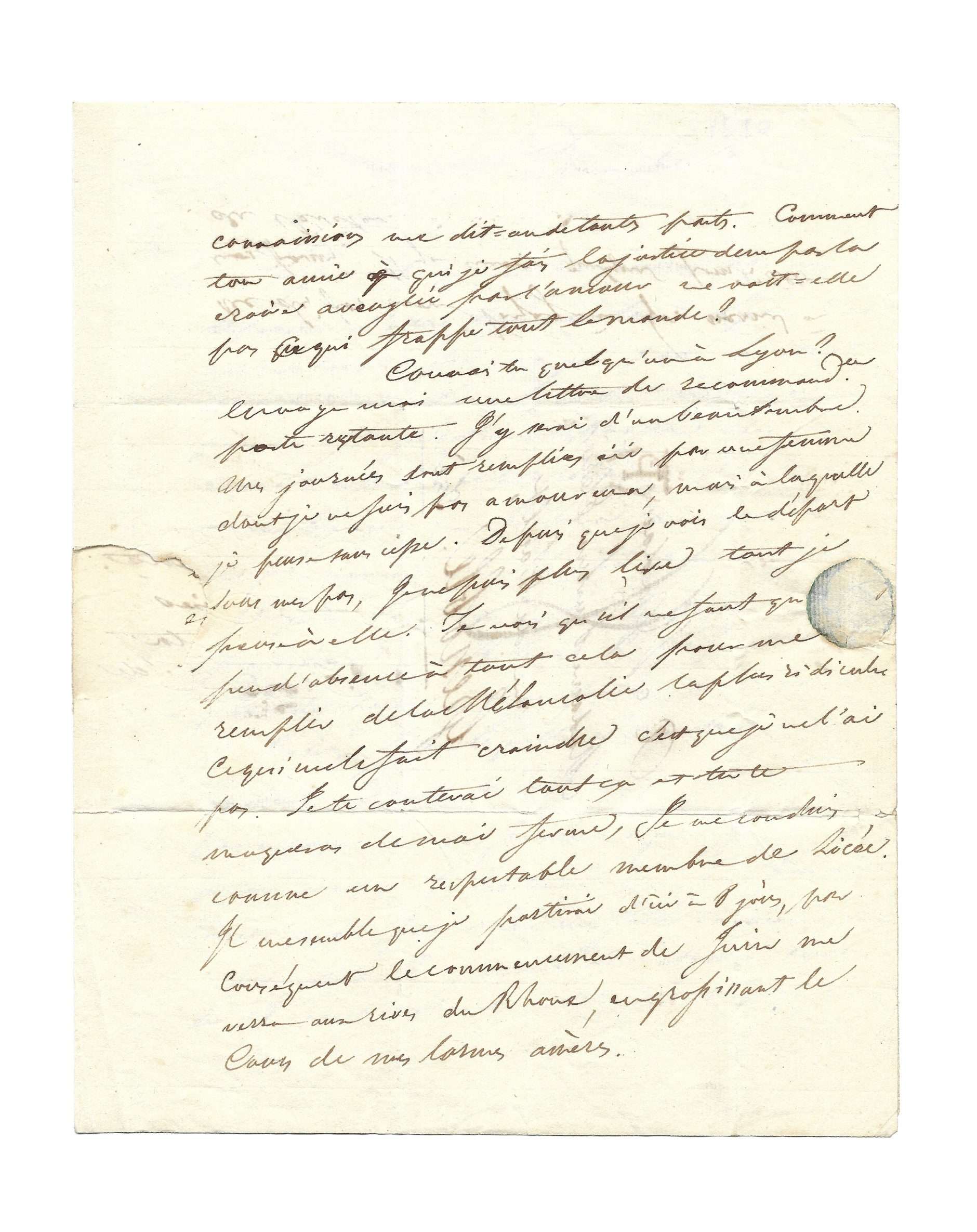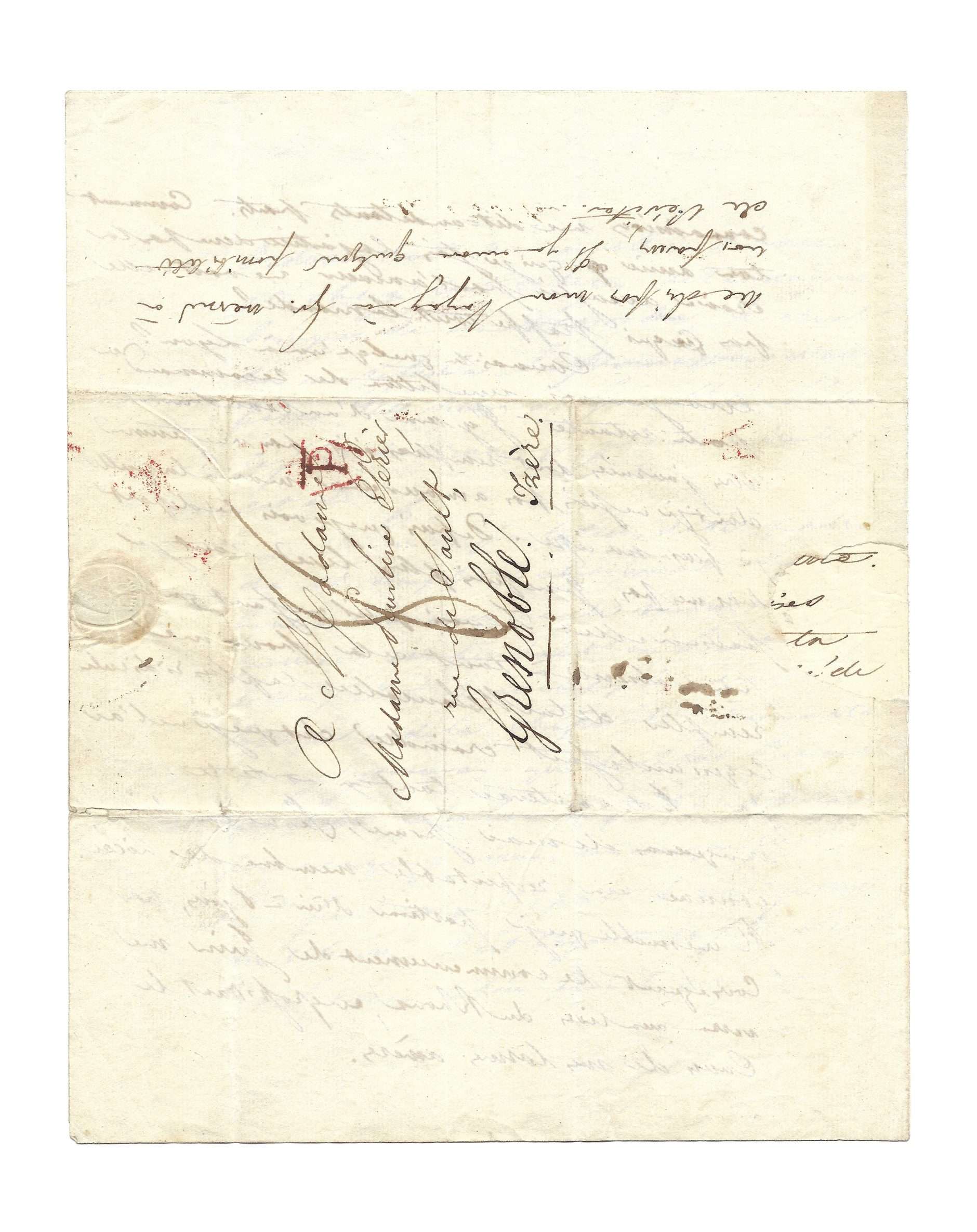 Fact sheet
STENDHAL, Henri Beyle, dit (1783-1842)
Autograph letter to his sister, Pauline Périer-Lagrange
N.p, « Sunday », [13rd May 1810], 3 p. 1/4 in-4°
Autograph address on fourth page
Missing wax seal, without affecting the words, small tears on folds
Stendhal despairs to know Victorine Mounier escaping him and consoles himself in the arms of another woman
---
« Il paraît que je ne pourrai pas me dispenser d'aller faire un tour à Lyon. C'est un contre-temps très marqué pour les intérêts d'ambition. Pour les autres, tu sens si je puis m'affliger d'une destination qui me donne l'espoir de te revoir. Mais pendant mon absence, qui pressera ma nom[inati]on et, une fois nommé, qui sera là pour me faire employer à Paris et éviter la triste sous-préfecture ? Je serai C[ommissaire] d[es] G[uerres] de la place de Lyon, beau poste, mais accablé d'affaires pour lesquelles il faudra au moins trois ou quatre secrétaires que je ne pourrai pas engager, car au premier signe officiel que je suis nommé, je déserterai, non pas pour aller boire, mais pour me faire examiner. Mon ordre est du 8, j'aurais dû être à Lyon le 18 au plus tard. M. Charmat, mon ordonnateur, sera en colère d'avoir été chargé tout ce temps de l'ennuyeuse besogne de sous-ordre. Ce cruel-là me refusera la permission d'aller passer vingt-quatre heures à Grenoble. Voilà le plan du drame que je vais exécuter cet été. Je n'ai pas le temps de te parler de ta simple et charmante lettre. Tu ne  m'annonces que de mauvaises nouvelles et cependant, en lisant ta lettre, j'étais beaucoup plus occupé de la finesse et de la simplicité charmante que j'y trouvais, que du plat renard qui vient m'enlever ce qu'il n'appréciera pas et ce que j'aimais mieux que lui [allusion au mariage de Victorine Mounier]. J'ai pris, sans qu'il y parût, des renseignements sur l'homme. C'est l'égoïste le plus sec et le cœur le plus étroit que nous connaissions, me dit-on de toutes parts. Comment ton amie, à qui je fais la justice de ne pas la croire aveuglée par l'amour, ne voit-elle pas ce qui frappe tout le monde ?
Connais-tu quelqu'un à Lyon ? Envoie-moi une lettre de recommand[ati]on poste restante. J'y serai d'un beau sombre. Mes journées sont remplies ici par une femme, dont je ne suis pas amoureux, mais à laquelle je pense sans cesse. Depuis que je vois le départ sous mes pas, je ne puis plus lire, tant je pense à elle. Je crois qu'il ne faut qu'un peu d'absence à tout cela pour me remplir de la mélancolie la plus ridicule. Ce qui me le fait craindre, c'est que je ne l'ai pas. Je te conterai tout ça et tu te moqueras de moi ferme. Je me conduis comme un respectable membre de Lycée. Il me semble que je partirai d'ici à huit jours, par conséquent le commencement de juin me verra aux rives du Rhône, en grossissant le cours de mes larmes amères.
Ne dis pas mon voyage à Gr[enoble], même à nos parents. Il y a encore quelque possibilité de l'éviter. »
---
The feelings expressed here for Victorine Mounier (1783-1822) are not recent. He met her in 1806 in Grenoble, when his friend Édouard Mounier introduced him to his sister. Knowing her little, he imagines a thousand qualities and dreams of marriage. However, she remains a "disembodied" love. He wrote first to his brother, hoping that he would have his sister read the letters and then to Victorine herself, without receiving a reply. Stendhal learned, with spite, of Victorine's marriage in 1811.
The year 1810 marked for Stendhal the beginning of his social ascent. Having been ordered to go to Lyon on May 11, 1810 but which he finally decided to ignore, he continued to frequent theaters, read, walk, and write. Appointed auditor to the Council of State on 1 August, he became inspector of furniture and buildings of the Crown in the autumn. Stendhal then frequented powerful characters and lived in the intimacy of Count Daru's family. He bought himself a fashionable convertible, stamps with his initials, rents an apartment more in line with his new status. His social situation put an end to his financial worries and made him hope for the barony (mentioned at the beginning of the second letter), but left him dissatisfied. In need of love, he says: "This happiness of dress and money is not enough for me, I must love and be loved".
Favorite sister of Henri Beyle, Pauline (1786-1857) had married in 1808 François-Daniel Périer-Lagrange and lived then at the castle of Thuellin near Brangues where will take place the news item at the origin of the novel Le Rouge et le noir.
Widowed at the age of 31, Pauline must have been embarrassed because her husband had mismanaged his property. She escaped with the help of her brother, who regularly paid her an annuity and bequeathed her modest possessions upon her death.
Bibliography:
Lettres à Pauline, éd. L. Royer, La Connaissance, 1921, p. 79-80
Correspondance générale, éd. V. Del Litto, Honoré Champion, t. II, n°566
Provenance:
Dr Jean Marchand's collection