STEVENSON, Robert Louis (1850-1894)
Autograph letter signed « Robert Louis Stevenson » to Hubert Smith-Stainer
Edinburgh, [Pitlochry, 6th June 1881], 3 pp. in-8°
« Two or three nights under the stars… »
EUR 8.500,-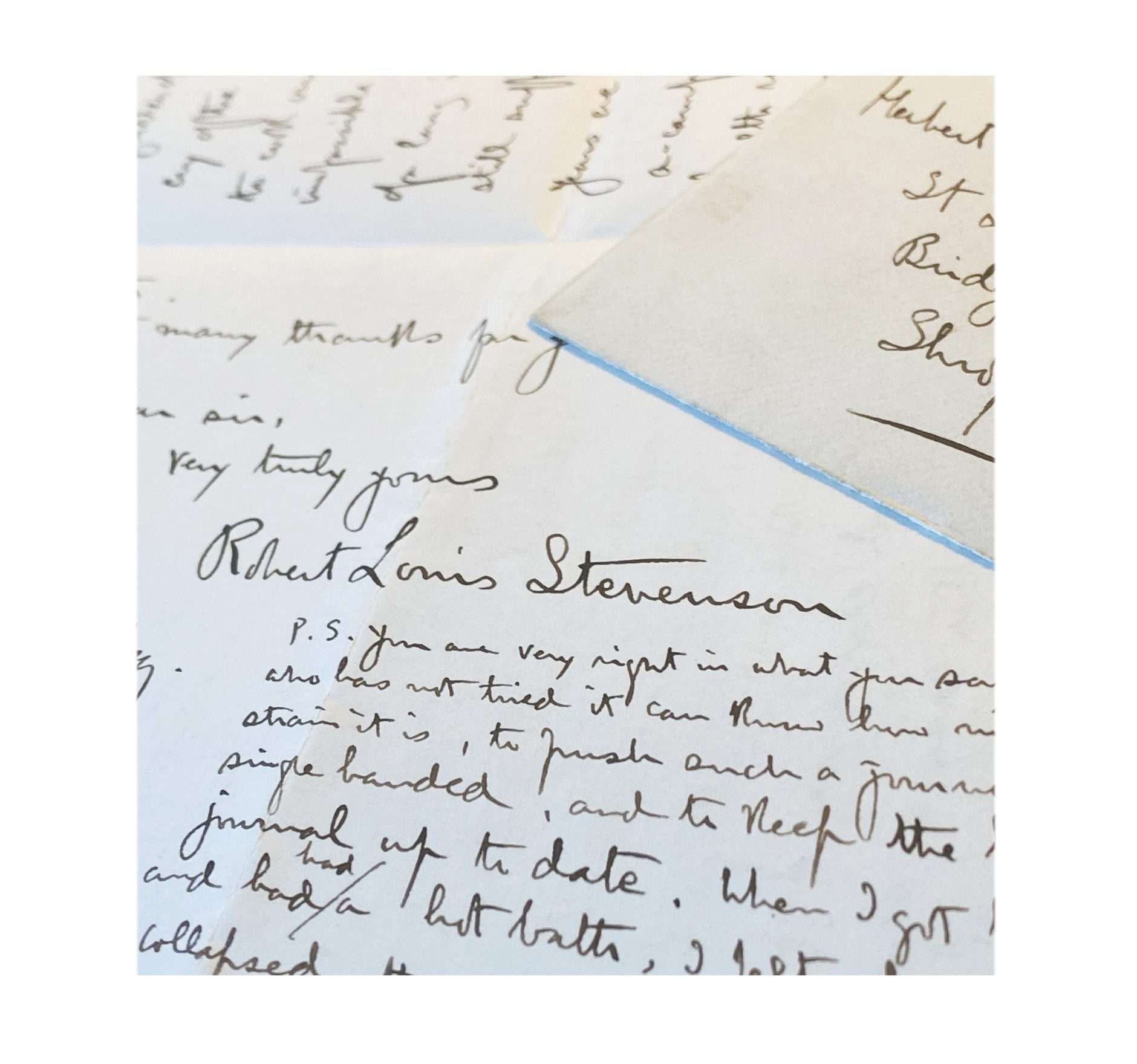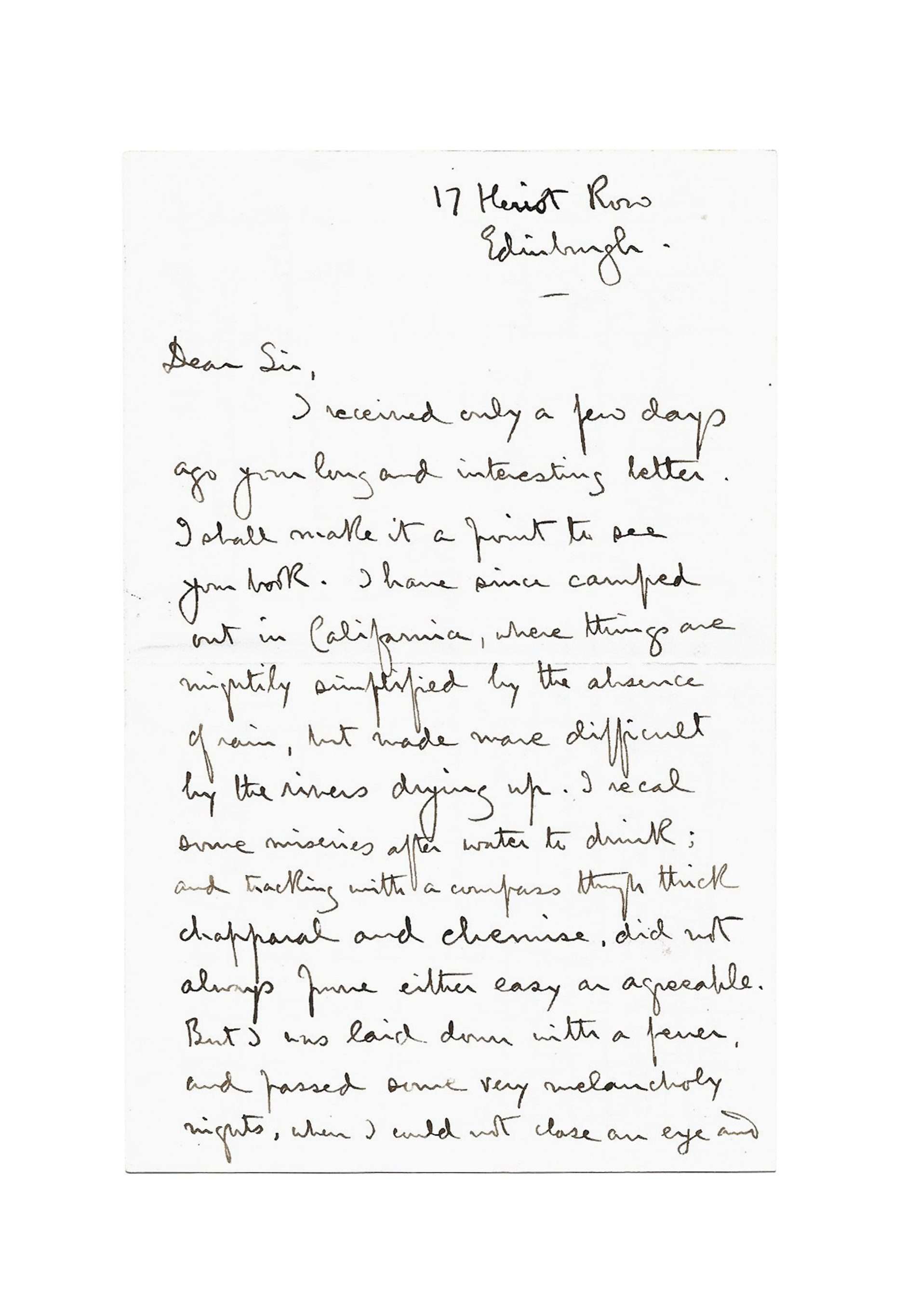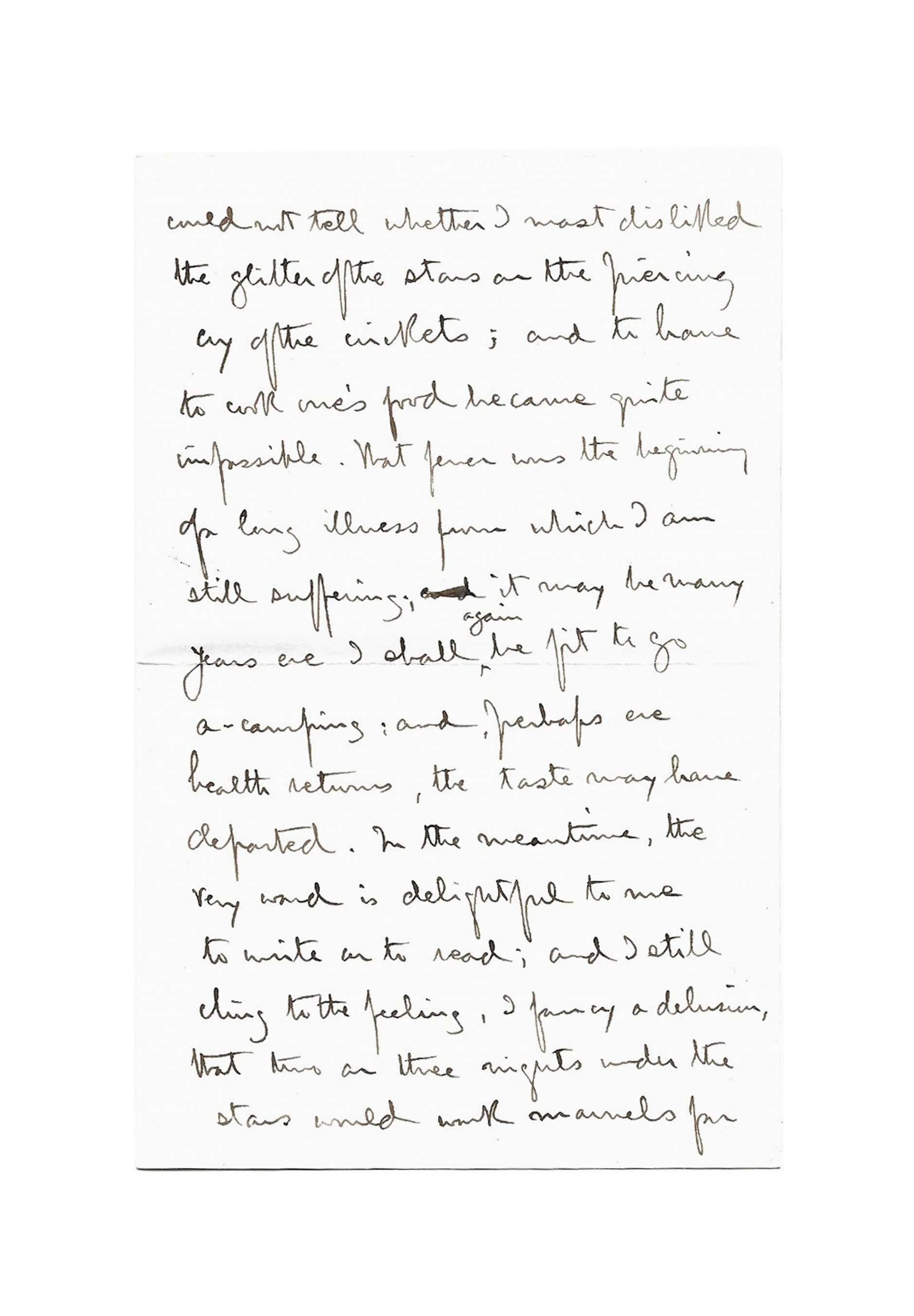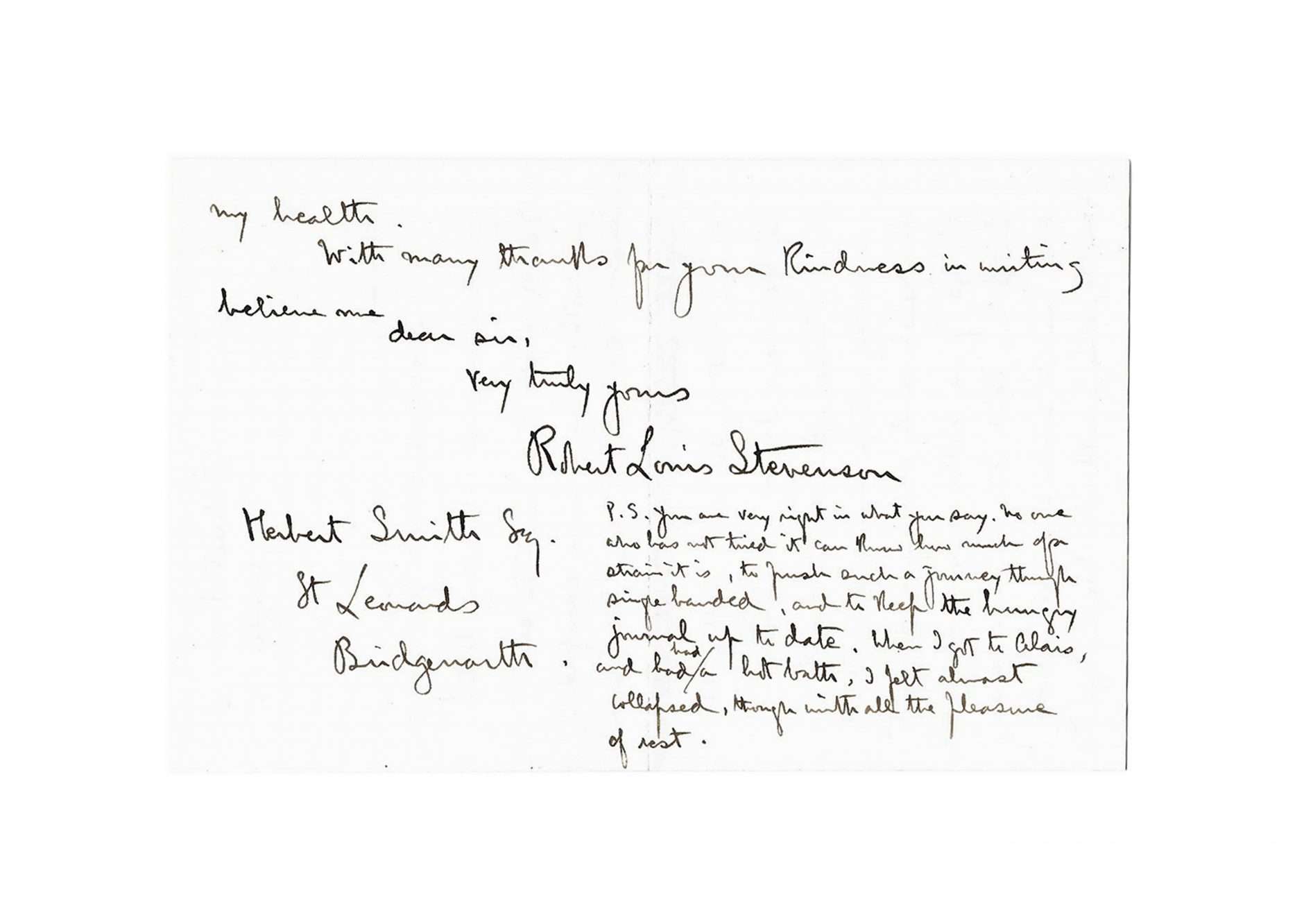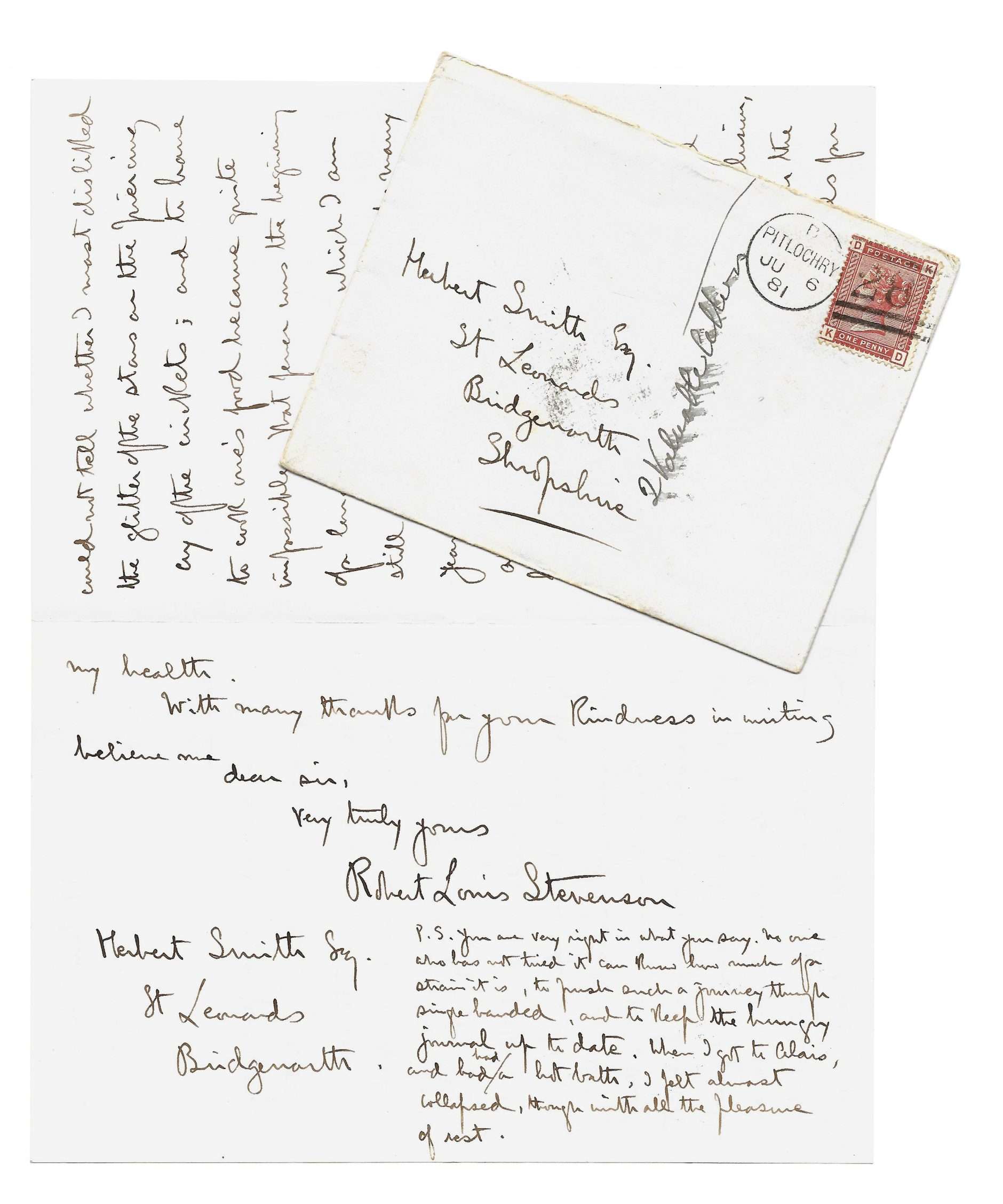 Fact sheet
STEVENSON, Robert Louis (1850-1894)
Autograph letter signed « Robert Louis Stevenson » to Hubert Smith-Stainer
Edinburgh, [Pitlochry, 6th June 1881], 3 pp. in-8°
With autograph envelope
Long and beautiful Stevenson letter, from his native lands, evoking his difficult camps in California and the Cevennes
---
« Dear Sir,
I received only a few days ago your long and interesting letter.
I shall make it a point to see your book. I have since camped out in California, where things are mightily simplified by the absence of rain, but made more difficult by the rivers drying up. I recal some miseries after water to drink; and tracking with a compass through thick chapparal and chemise, did not always prove either easy or agreeable. But I was laid down with a fever, and passed some very melancholy nights, when I could not close an eye and could not tell whether I most disliked the glitter of the stars or the piercing cry of the crickets; and to have to cook one's food became quite impossible. That fever was the beginning of a long illness from which I am still suffering; it may be many years ere I shall again be fit to go a-camping: and perhaps ere health returns, the taste may have departed. In the meantime, the very word is delightful to me to write or to read; and I still cling to the feeling, I fancy a delusion, that two or three nights under the stars would work marvels for my health.
With many thanks for your kindness in writing.
Believe me dear sir, very truly yours
Robert Louis Stevenson
P.S. You are very right in what you say. No one who has not tried it can know how much of a strain it is, to push such a journey through single handed, and to keep the hungry journal up to date. When I got to Alais, and had had a hot bath, I felt almost collapsed, though with all the pleasure of rest. »

---
In August 1879, Stevenson began his journey to California to join his betrothed, Fanny Osbourne, against the will of his family. He met this American painter, already married and mother of two, in Barbizon five years earlier. It is while waiting for Fanny's divorce that the writer leads a bohemian life on the port of San Francisco, living shabbyly, according to small jobs, without ever finding a lasting one.
Stevenson's long wanderings were the cause of his frequent illnesses and fragile health. He came close to death in March 1880, only to be saved by Fanny, who spent six weeks at his bedside. He will never get rid of this evil to which he refers in the letter "the beginning of a long illness from which [he] still suffers." He knows he is fragile, but the intoxication of travel and adventure do not leave him. Thus he deludes himself "in thinking that two or three nights under the stars could work wonders on [his] health".
The two lovers married on 19 May 1880 and returned to Scotland the following summer. Leading a peaceful life with his wife on his native land, Stevenson was in the summer of 1881 in the middle of writing one of his masterpieces: Treasure Island.
In a long postscript, the writer returns to this decisive episode that was for him the autumn of 1878. Between his unconditional love for Fanny Osbourne and his father's threats to cut off her if he persists in this idea of union with a woman already married, Robert Louis who is not 28 years old and still not financially independent is plagued by doubt. He decided to go to Monastier-sur-Gazeille, in Auvergne. It is the starting point of a hike he makes in the company of a donkey, and until exhaustion. The specter of Fanny Osbourne is omnipresent. It is the main motivation of this journey during which he keeps a diary published the following year under the title Travels with a donkey in the Cévennes.
This letter, although written from his home in Edinburgh and presumably on 5 June, was sent from Pitlochry, 150 km further north, where Stevenson resided from 6 June to 2 August 1881.
Bibliography:
Robert Louis Stevenson, éd. Richard Dury, 2012, 12:3
Provenance:
Bonhams – London, 19th June 2002
Then private collection