VALÉRY, Paul (1871-1945)
Autograph manuscript signed « Paul Valéry »
N.p.n.d, 2 p. in-4to, on Japanese paper
« Ni vu ni connu / Le temps d'un sein nu / Entre deux chemises »
EUR 2.800,-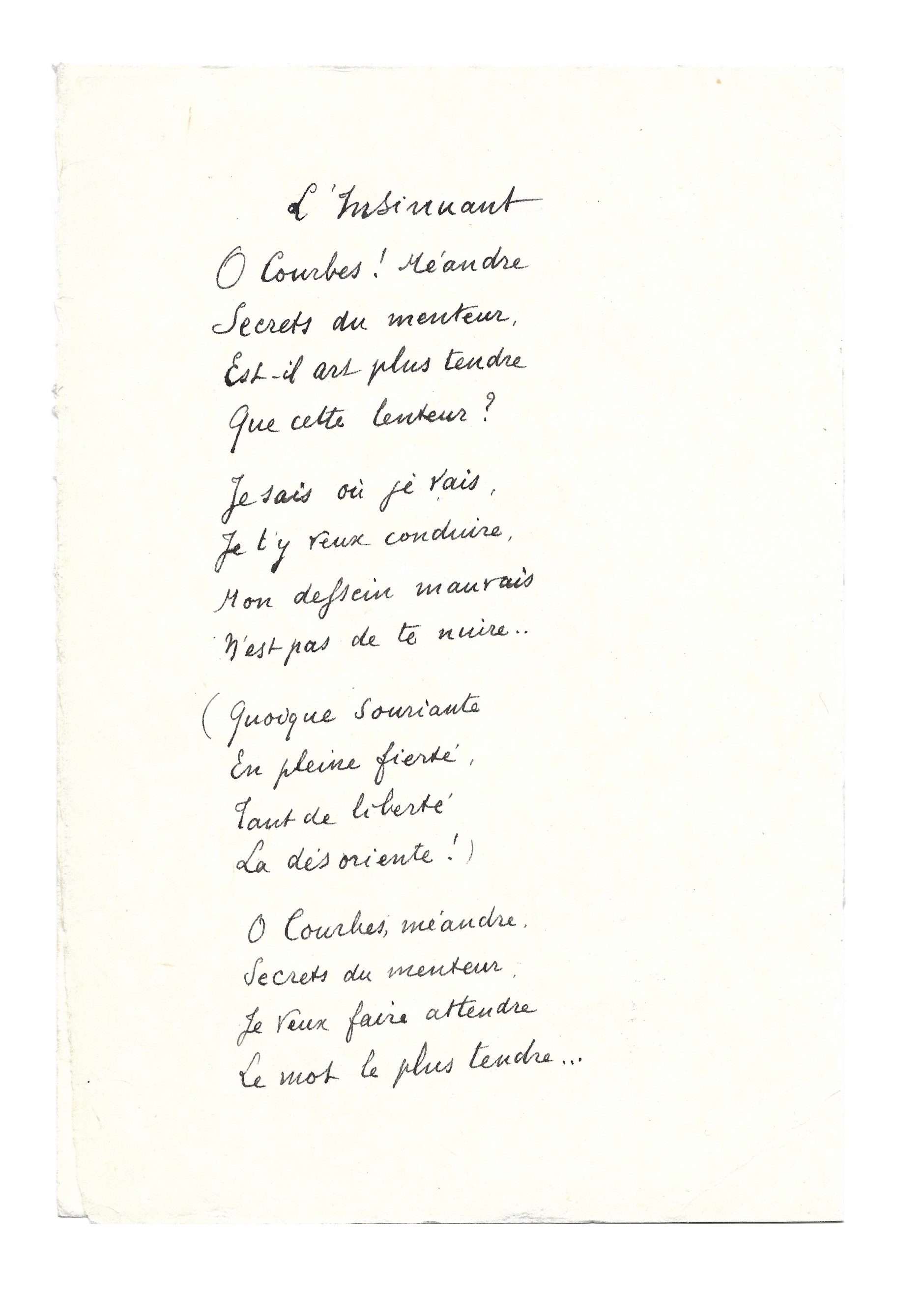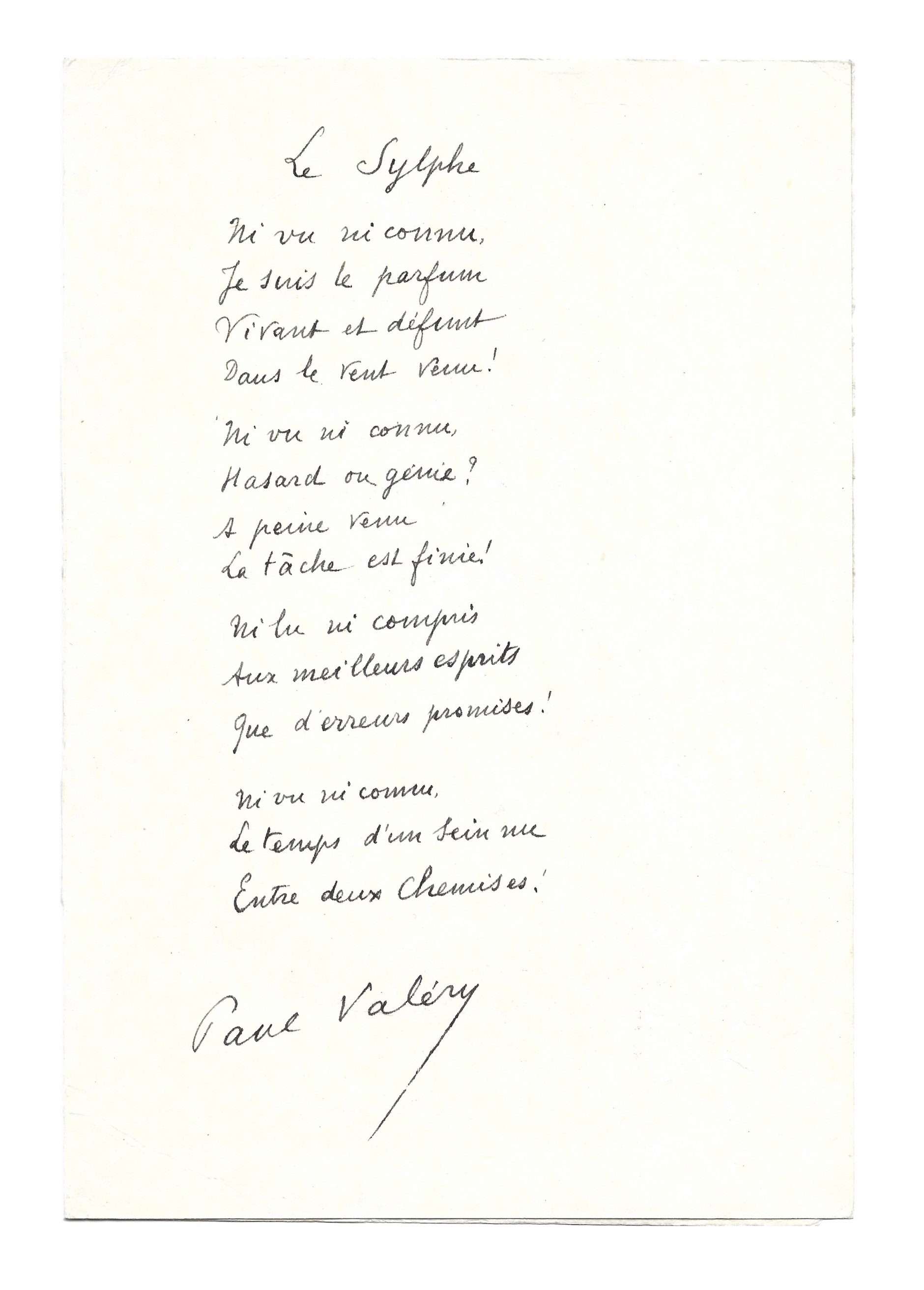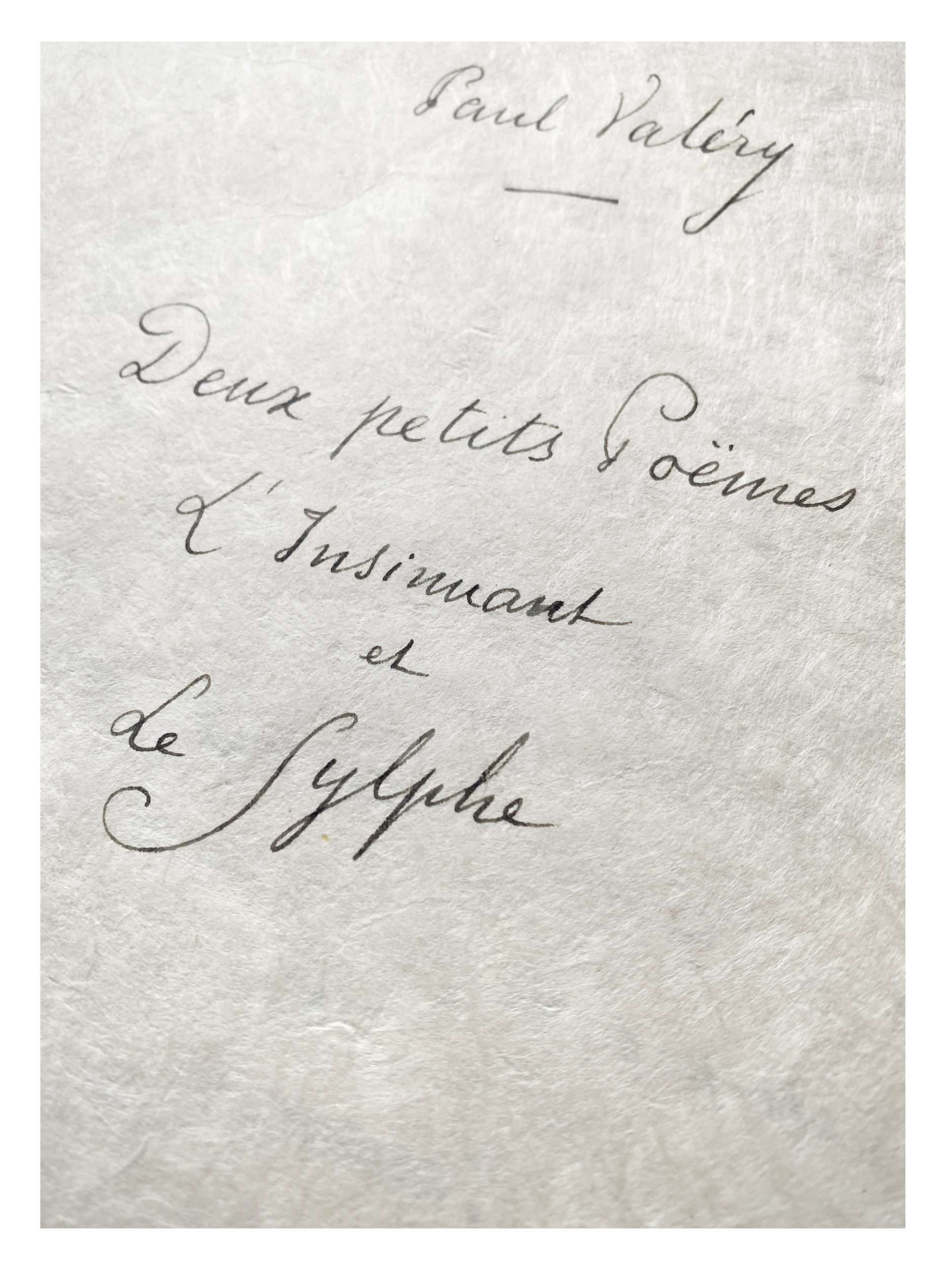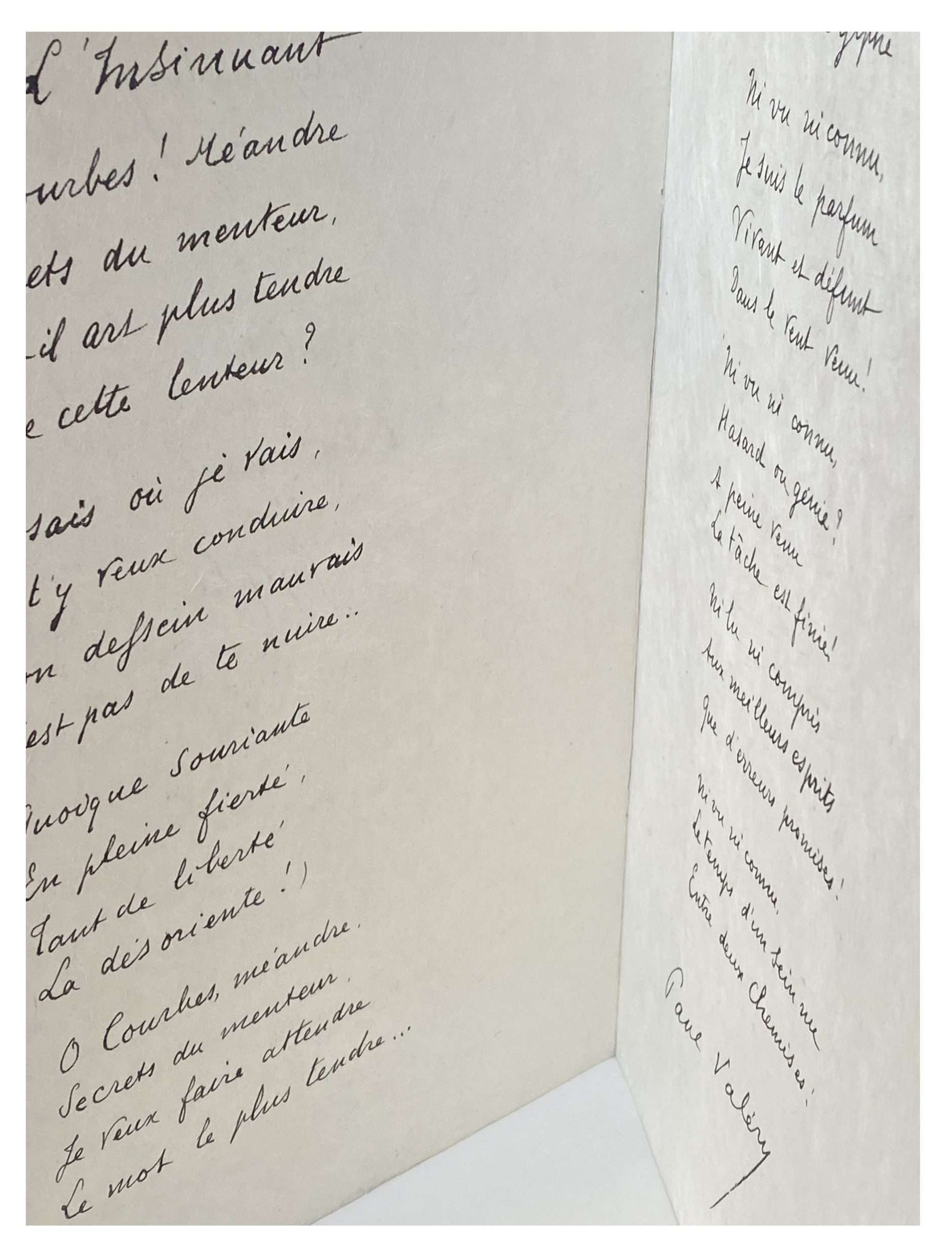 Fact sheet
VALÉRY, Paul (1871-1945)
Autograph manuscript signed « Paul Valéry »
N.p.n.d, 2 p. in-4to, on Japanese paper
Superb manuscript for two erotic poems published in Charmes in 1922
---
L'Insinuant

Ô courbes, méandre,
Secrets du menteur,
Est-il art plus tendre
Que cette lenteur ?

Je sais où je vais,
Je t'y veux conduire,
Mon dessein mauvais
N'est pas de te nuire…

(Quoique souriante
En pleine fierté,
Tant de liberté                                                 
Te désoriente ?)
Ô Courbes, méandres,
Secrets du menteur,
Je veux faire attendre
Le mot le plus tendre
Le Sylphe
Ni vu ni connu
Je suis le parfum
Vivant et défunt
Dans le vent venu !
Ni vu ni connu,
Hasard ou génie ?
A peine venu
La tâche est finie !
Ni lu ni compris
Aux meilleurs esprits
Que d'erreurs promises !
Ni vu ni connu,
Le temps d'un sein nu
Entre deux chemises !

Paul Valéry
---
Crowned with the success of the monumental poem La Jeune Parque, Valery was fifty years old when he began the composition of this new collection, Charmes, whose title alone evokes both the eroticism of the female body and the bewitching force of the game of seduction, Words are used in all their polysemy for "their mutual influences that dominate at the expense of their property to consume themselves in a defined and certain sense", in Valery's own words.
From these two poems with multiple interpretations emerges the spirit of Eros through the evocation of feminine curves, the theme of seduction in the literal sense, the evanescent perfume of the beloved woman, the breast that we see, the unfulfilled desire, that Valery grasps by the magic of words, rhymes, echoes between the verses ("neither read nor understood / neither seen nor known").
With Charmes, Valery reached the top of his poetic art, which he abandoned to return to prose and theoretical writings.
These two poems here copied probably constitute a present made by Valery, a hypothesis corroborated by the quality of the Japanese paper and the atypical presentation of the two texts. It is worth noting some slight variations compared to the edited version, especially in terms of punctuation, a sign of the importance that the poet gives to the form of his texts, in the manner of a Mallarmé.
We attach : a post card signed by Paul Valéry