[VERLAINE] KRANTZ, Eugénie (18–/1897)
Autograph letter signed several times "Eugénie Krantz" to Edmond Lepelletier
Paris 29th January [1896], 4 p. in-12
Hospitalized a few days after Verlaine's death and abandoned by all, Eugénie Krantz calls for desperate help
EUR 1.500,-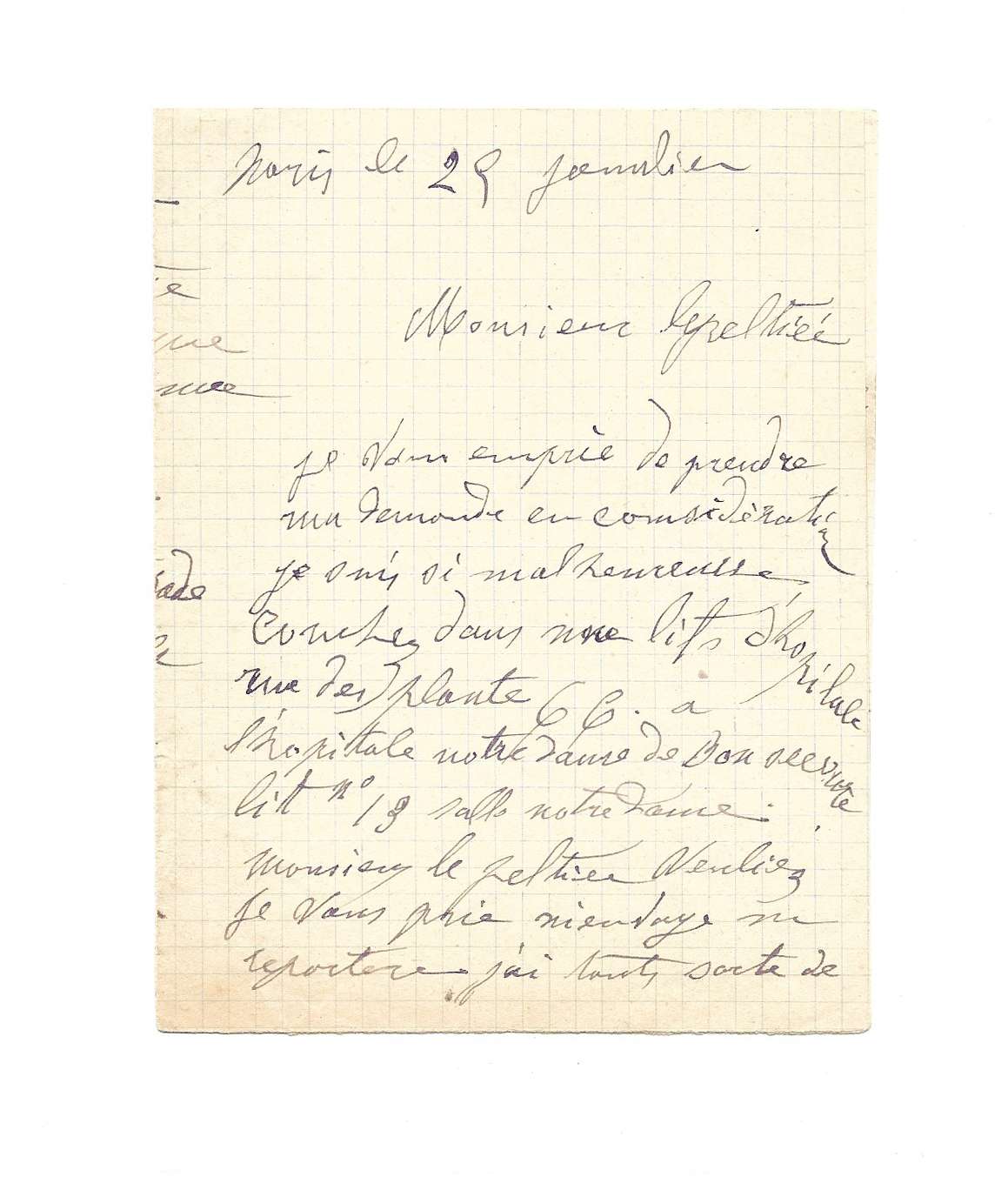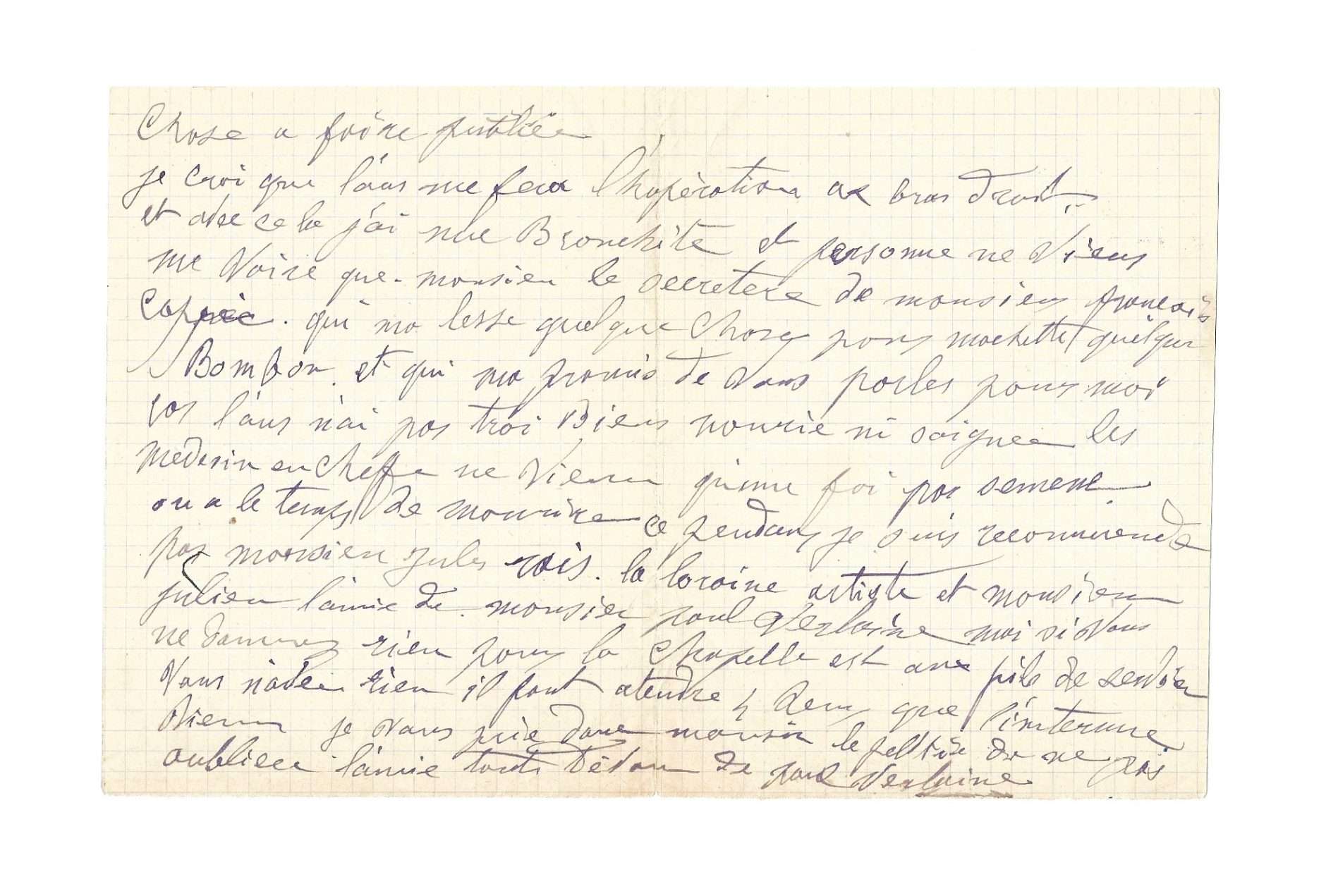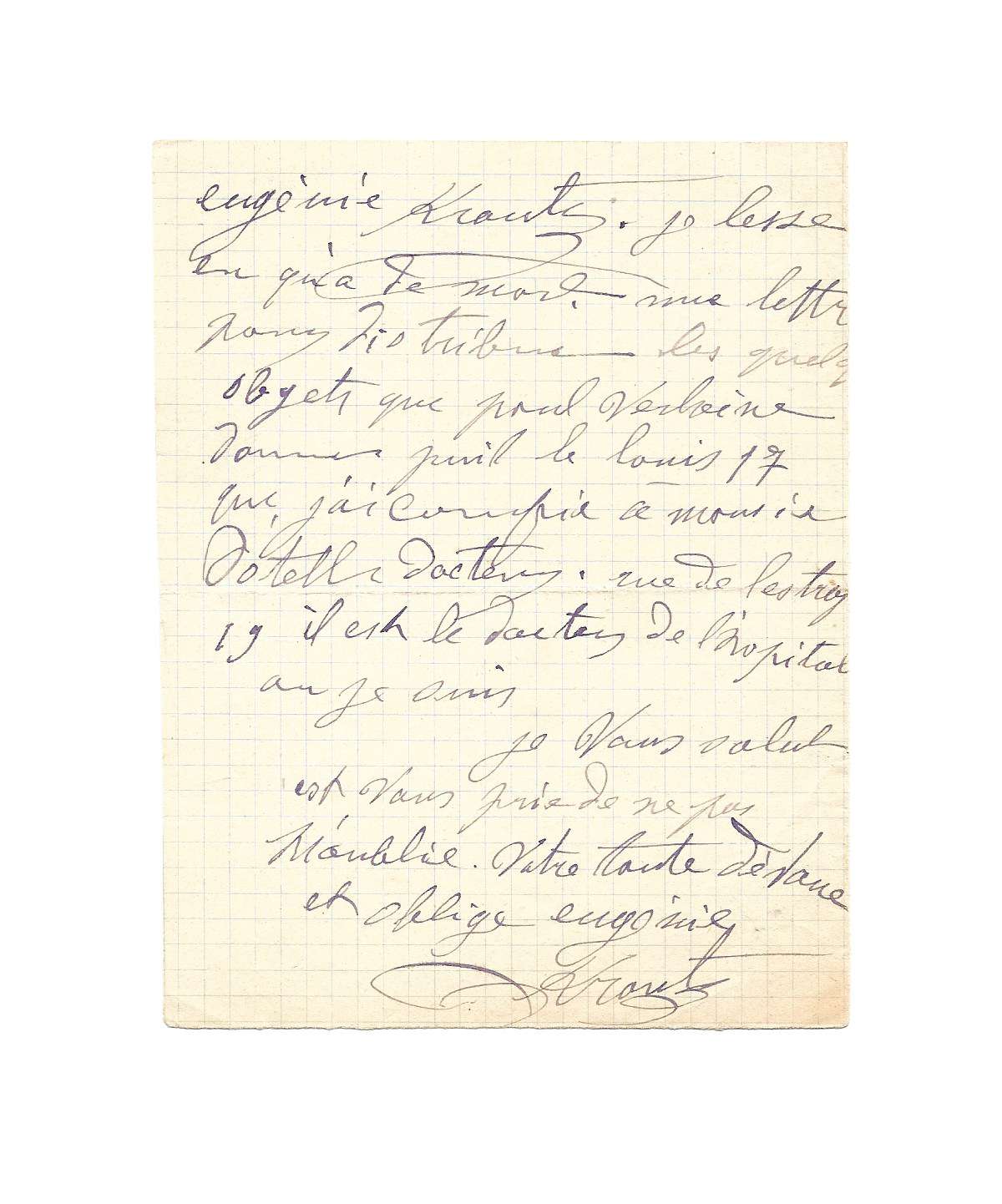 Fact sheet
[VERLAINE] KRANTZ, Eugénie (18–/1897)
Autograph letter signed several times "Eugénie Krantz" to Edmond Lepelletier
Paris 29th January [1896], 4 p. in-12
Hospitalized a few days after Verlaine's death and abandoned by all, Eugénie Krantz calls for desperate help
---
Eugenie Krantz was hospitalized at the end of January at Notre-Dame de Bon Secours on Rue des Plantes and called for help.
In a phonetic french, she writes:
« Monsieur Lepeltiée, je vous emprie de prendre ma demande en considération Je suis si malheureuse, couchez dans un lits d'hopitale rue des plantes 66 a l'hopitale notre dame de bon secoure lit n°13 salle notre dame […] Je croi que l'on me fera l'hopération au bras droit et de ce que j'ai une bronchite et personne ne viens me voire que monsieur le secretere de monsieur francois coppée. qui ma laisse quelque chose pour machette quelques bonbon […] Je vous prie donc monsieur le peltier de ne pas oubliée l'amie toute dévoué de Paul Verlaine. Veuliez je vous prie m'envoyé un reportère. J'ai toute sorte de chose à faire publiée […] Personne ne vient me voire que monsieur le secrétère de M. François Coppée […] Je lesse en qu'a de mord une lettre pour distribuer les quelque objets que Paul Verlaine ma donner puis le Louis 17 que j'ai confié à M. Dotelle… le docteur de l'hopitale ou je suis. Je vous salut et vous prie de ne pas m'oublie. Votre toute devoue et oblige eugénie Krantz»
---
Eugenie Krantz will be left behind by all after Verlaine's death. She had a tragic ending. Hospitalized until the spring of 1896, she prostituted herself to pay for her home at 39 rue Descartes, then fell into alcoholism before dying the following year.