[VERLAINE] KRANTZ, Eugénie (18–/1897)
Autograph letter signed twice "Eugénie Krantz" to Edmond Lepelletier
Paris, 39 rue Descartes, 8th January 1896, 2 pp. in-12 oblong
Extraordinary first-hand and unpublished testimony on Verlaine's last moments, the day of his death
EUR 4.800,-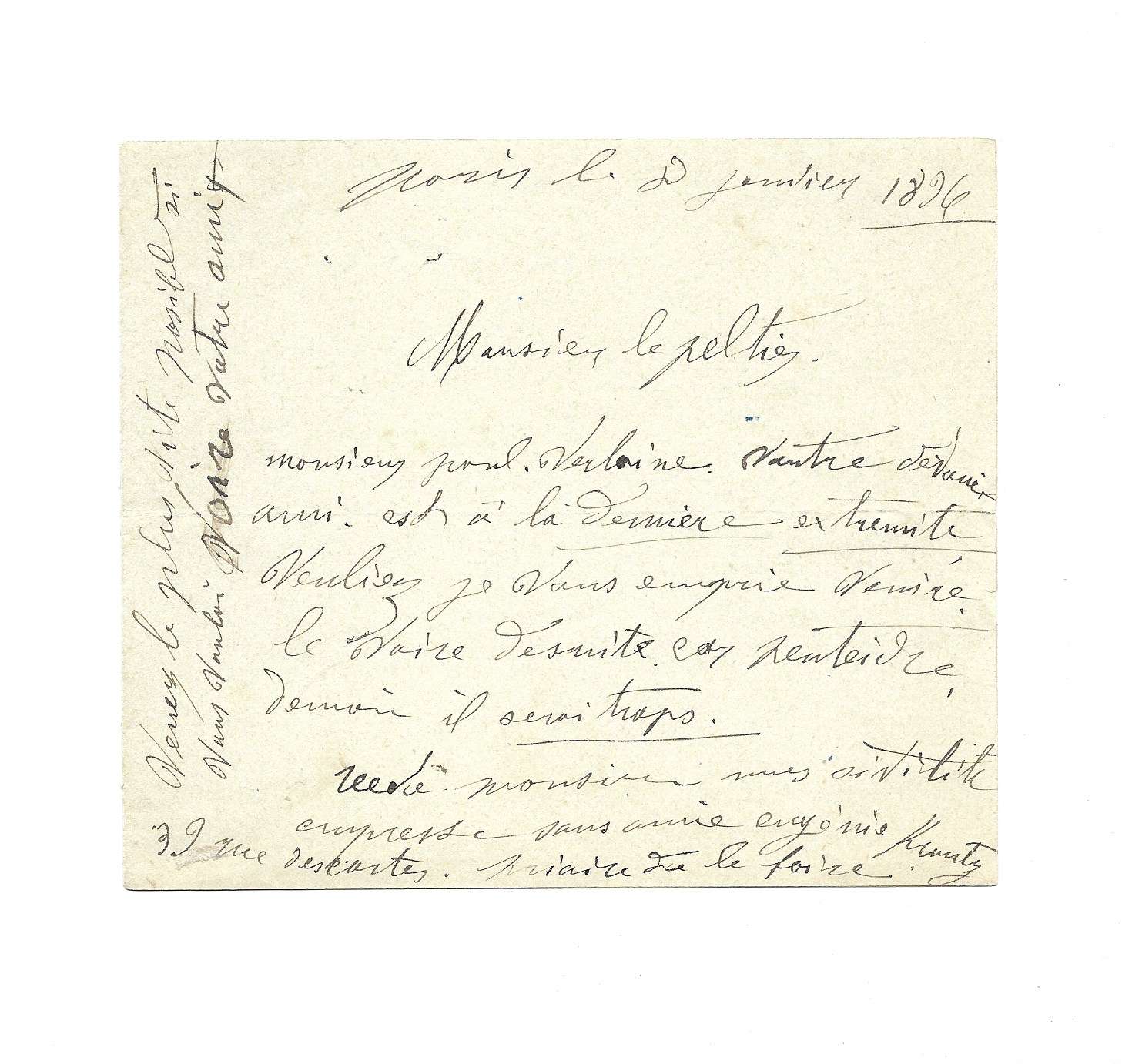 Fact sheet
[VERLAINE] KRANTZ, Eugénie (18–/1897)
Autograph letter signed twice "Eugénie Krantz" to Edmond Lepelletier
Paris, 39 rue Descartes, 8th January 1896, 2 pp. in-12 oblong
THE DEATH OF VERLAINE
Very moving first-hand testimony on the last moments of Verlaine by his last mistress Eugenie Krantz, aka Nini-Mouton, former music-hall performer that had inspired 25 pieces for Chansons pour Elle.
Close to misery, running after money, she sheltered the dying poet in her apartment at 39 Rue Descartes. He died on the evening of January 8, 1896
---
In a phonetic french, she writes:
"Monsieur Paul Verlaine vautre dévoué ami est à la dernière extremite. Veuliez je vous emprie venire le voire desuite car peutetre demain il serai trop [tard]… Venez le plus vite posibl si vous vouloi voir votre ami. Monsieur mes amitiés empresse sons amie Eugénie Krantz. Priaire monsieur de venire desuite pour monsieur Paul Verlaine. […] Mlle Krantz 39 rue Descartes"
---
Verlaine died that evening at around 7:00 p.m., surrounded by Eugenie Krantz and a young man named Cornuty, a fanatic of his work. A priest had come for the extreme anointing. From the evening, and throughout the night and the next day, everyone heard of the poet's death and gathered Rue Descartes.
In Lepelletier's excellent book on his childhood friend, he mentions this missive: "On my way home . . . I found a rag of paper, at the address also badly put, informing me that if I wanted to see one last time my friend Paul Verlaine, I had only to go to Rue Descartes. It signed by Eugenie Krantz, the companion of the poet's last days" (E. Lepelletier, Paul Verlaine, sa vie, son œuvre, 1907, p. 541).