VERLAINE, Paul (1844-1896)
Autograph letter signed "Paul Verlaine" to his mistress Philomène Boudin
London, [25th November 1893], 3 p. in-8
"Do not worry about other women. Moreover, London brought me misfortune 20 years ago in this respect"

EUR 3.200,-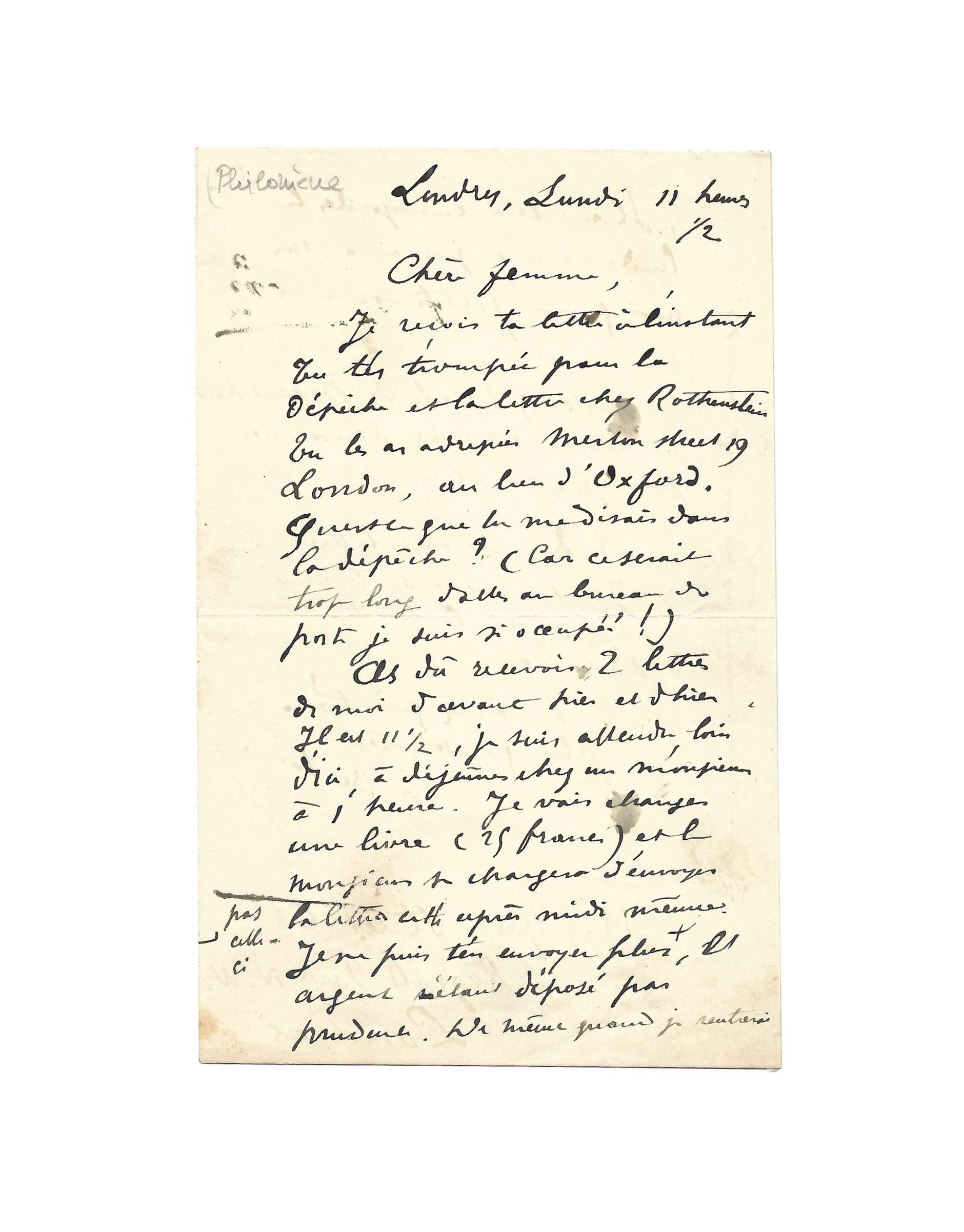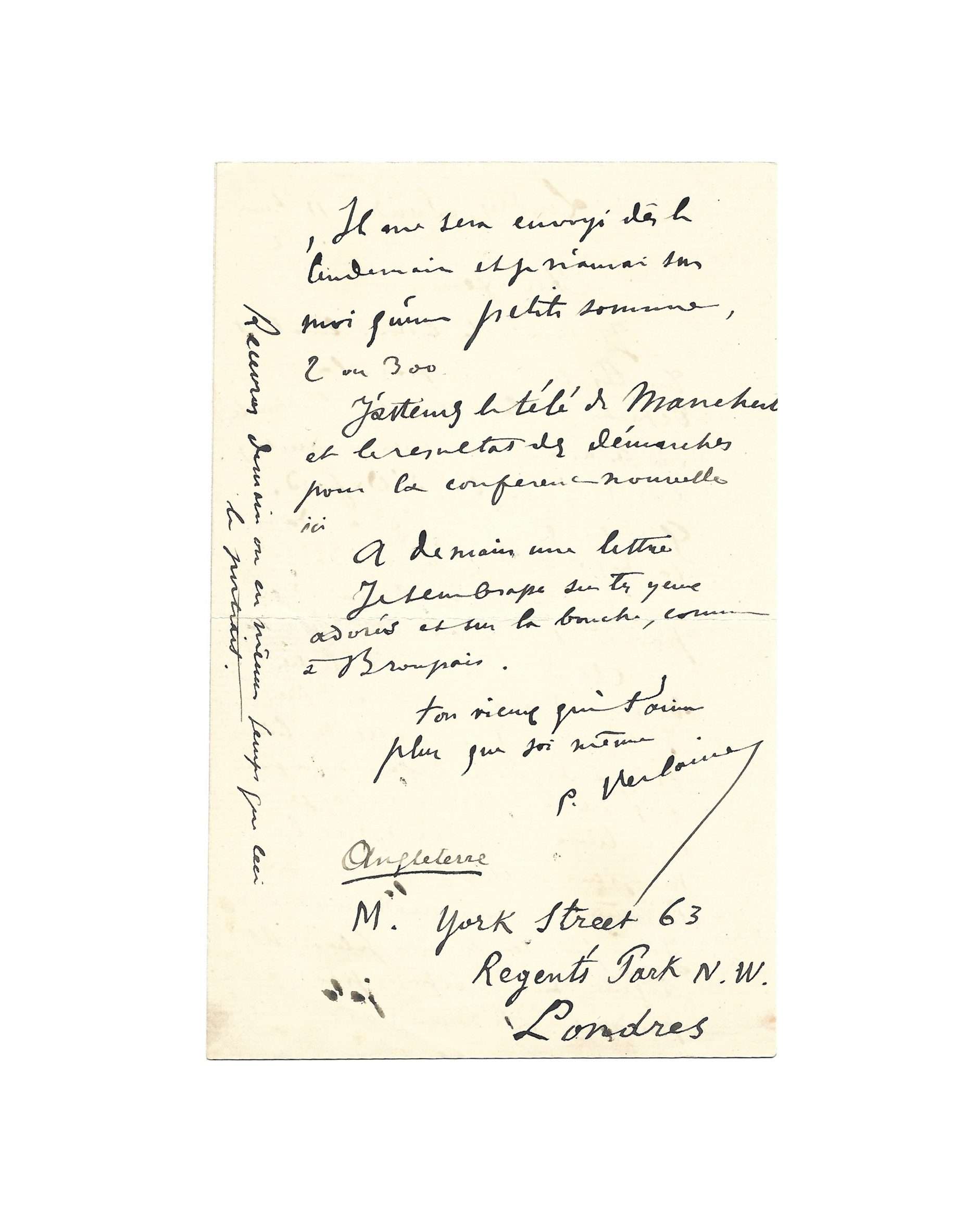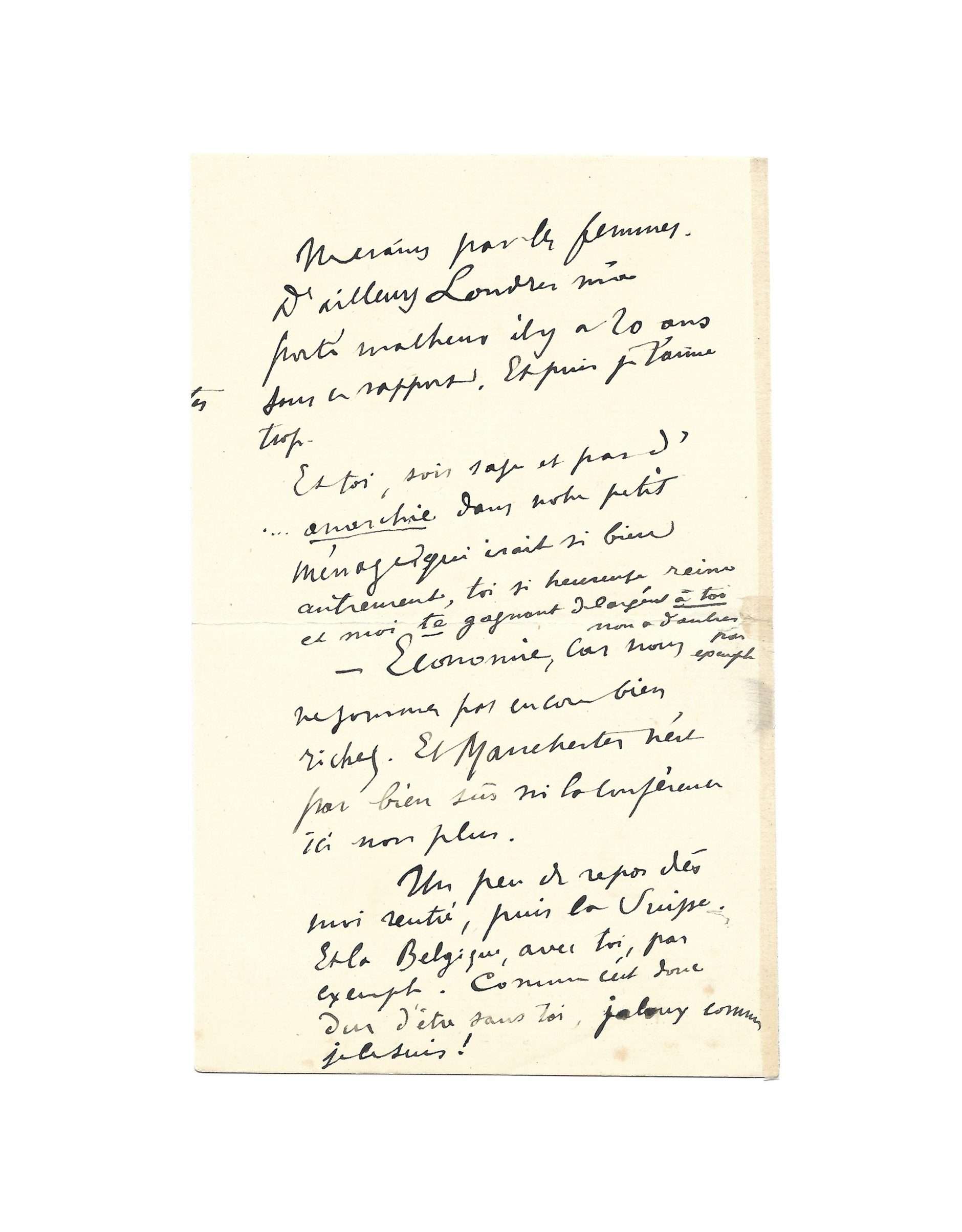 Fact sheet
VERLAINE, Paul (1844-1896)
Autograph letter signed "Paul Verlaine" to his mistress Philomène Boudin
London, [25th November 1893], 3 p. in-8
Some ink stains, small and skillful repair on second folio in the fold mark, previous mounting mark on second folio
Verlaine writes his mistress a tender missive from London where he gives conferences on poetry – he ends up reassuring her by alluding to his tumultuous trip in the same city twenty years earlier alongside Arthur Rimbaud and which contributed to the divorce with his wife Mathilde Mauté
---
"Chère femme,
Je reçois ta lettre à l'instant. Tu t'es trompée pour la dépêche et la lettre chez [William] Rothenstein. Tu les as adressées : Merton street, 19 London, au lieu d'Oxford. Qu'est-ce que tu me disais dans la dépêche ? (Car ce serait trop long d'aller au bureau de poste, je suis si occupé !).
As dû recevoir deux lettres de moi, d'avant-hier et d'hier. Il est 11 1/2, je suis attendu, loin d'ici, à déjeuner chez mon monsieur à 1 heure. Je vais changer une livre (25 francs) et le monsieur se chargera d'envoyer la lettre (pas celle-ci) cette après-midi même. Je ne puis t'envoyer + aujourd'hui, l'argent étant déposé par prudence. De même quand je rentrerai il me sera envoyé dès le lendemain et je n'aurai sur moi qu'une petite somme, 2 ou 300.
J'attends le télé[gramme] de Manchester et le résultat des démarches pour la conférence nouvelle ici.
A demain une lettre.
Je t'embrasse sur tes yeux adorés et sur la bouche, comme à [l'hôpital] Broussais.
Ton vieux qui t'aime.
P. Verlaine
Angleterre, M. York Street, 63, Regent's Park N.W. Londres
Ne crains pas les femmes. D'ailleurs Londres m'a porté malheur il y a 20 ans sous ce rapport. Et puis je t'aime trop.
Et toi, sois sage, et pas d'anarchie dans notre petit ménage qui irait si bien autrement, toi si heureuse, reine et moi te gagnant de l'argent, à toi, non à d'autres, par exemple.
Economise, car nous ne sommes pas encore bien riches.
Et Manchester n'est pas bien sûr, ni la conférence ici non plus.
Un peu de repos, dès moi rentré, puis la Suisse. Et la Belgique, avec toi, par exemple. Comme c'est donc dur d'être sans toi, jaloux comme je suis !
[He adds on the second folio] Recevras demain, ou en même temps que ceci, le portrait"
---
1893 was probably the year in which Paul Verlaine was the most successful with conferences in the United Kingdom, Belgium and Germany. He lectured on contemporary poetry and on himself, became rather famous, earned money but not making much savings.
He was invited by a group of young English writers and artists (Arthur Symons, Ernest Dawson, Tc.C. London and William Heinemann) and left on 19 November for London. He then gave several lectures, including one in Oxford where he was staying with William Rothenstein (mentioned at the beginning of this letter).
Verlaine then refers to the lectures he will finally give on December 1 in Manchester and December 5 in London.
« Do not worry about other women. Moreover, London brought me misfortune 20 years ago in this respect »
Verlaine made a total of eight trips to England, this one was the last. He alludes in the letter to the very first, in 1872, when he decided to go away with Arthur Rimbaud after leaving his wife and young son. The poets moved to London on September 9, 1872. At the beginning of October, Mathilde Mauté filed an application with the Tribunal de la Seine.
Paul Verlaine wrote to Victor Hugo two days later to ask him to intervene with his wife, in vain… On October 13, Mathilde obtained a non-conciliation order authorizing her to stay with her parents and obtain custody of the child.
Philomène Boudin is the one who inspires the poet in his tenth poetic collection with erotic tone: Chansons pour Elle, published by Léon Vanier in 1891.
References:
Correspondance de Paul Verlaine – Ad. Van Bever, Messein, t. II p. 307
Œuvres complètes, éd. H. de Bouillane de Lacoste et J. Borel, t. II p. 1614