[ZOLA] FLAUBERT, Gustave (1821-1880)
Autograph letter signed « Votre vieux Gve Flaubert » to Emile Zola
Croisset, Sunday [15 février 1880], 3 p. in-8°
« Nana turns into myth, without ceasing to be real »
EUR 15.000,-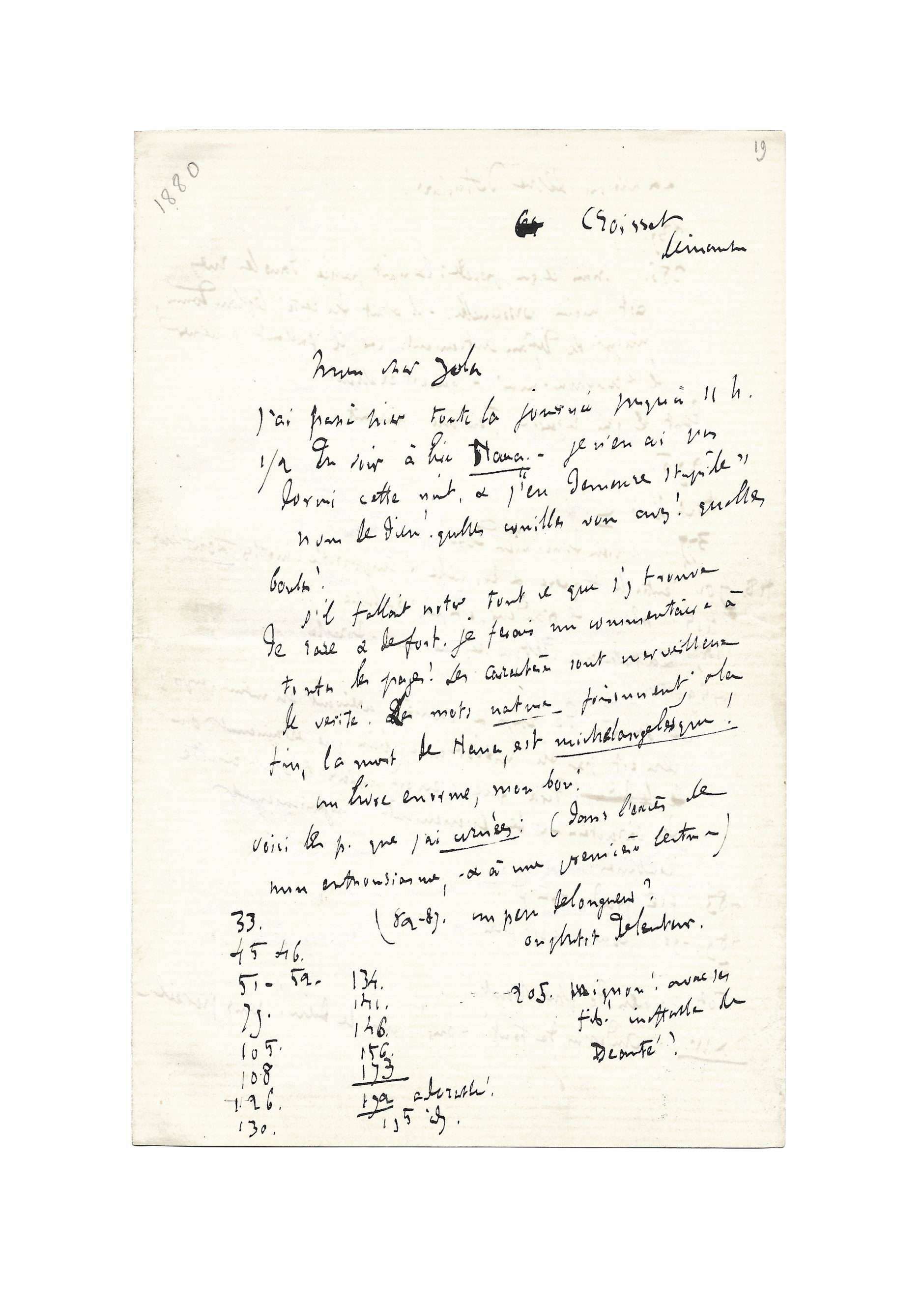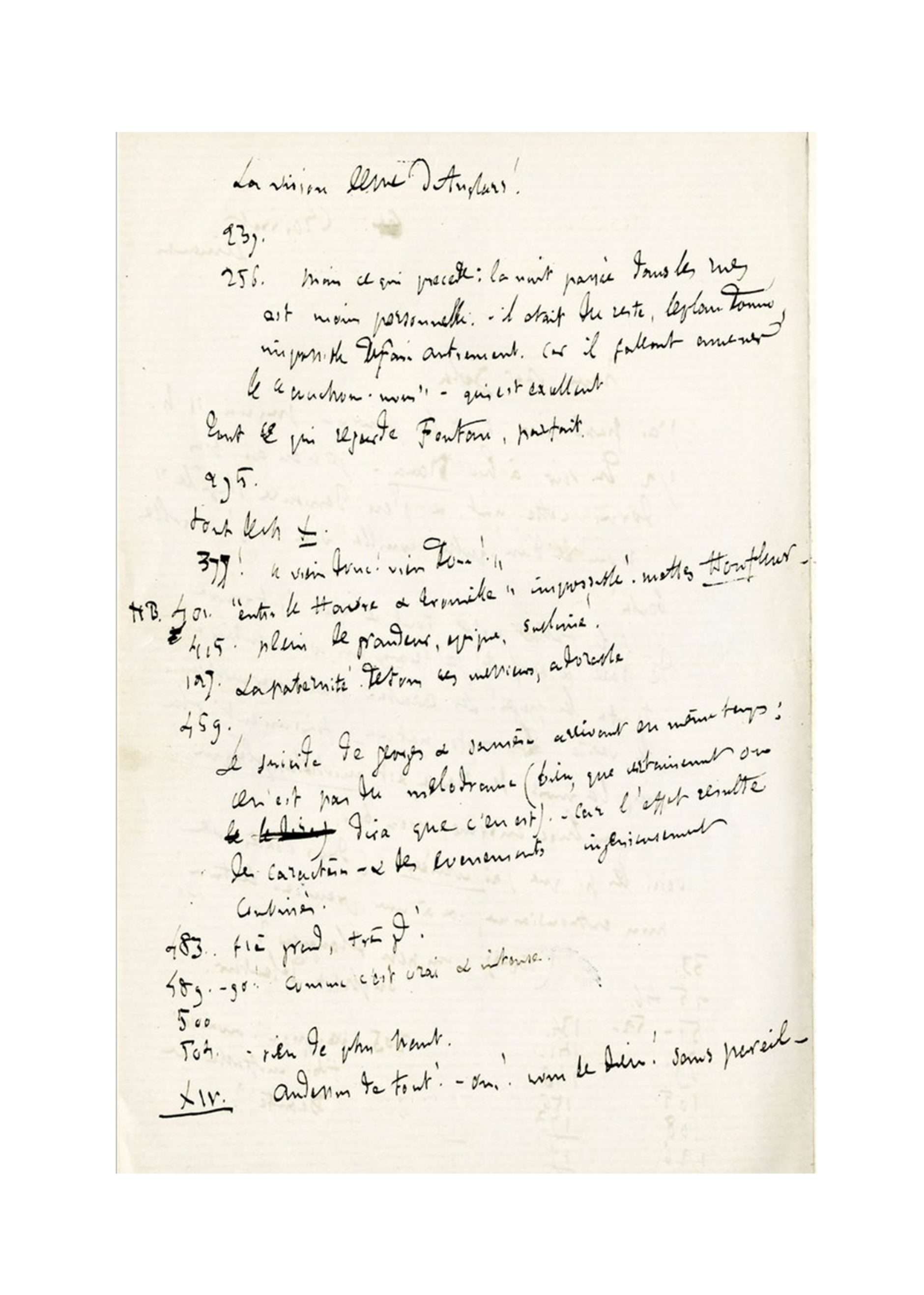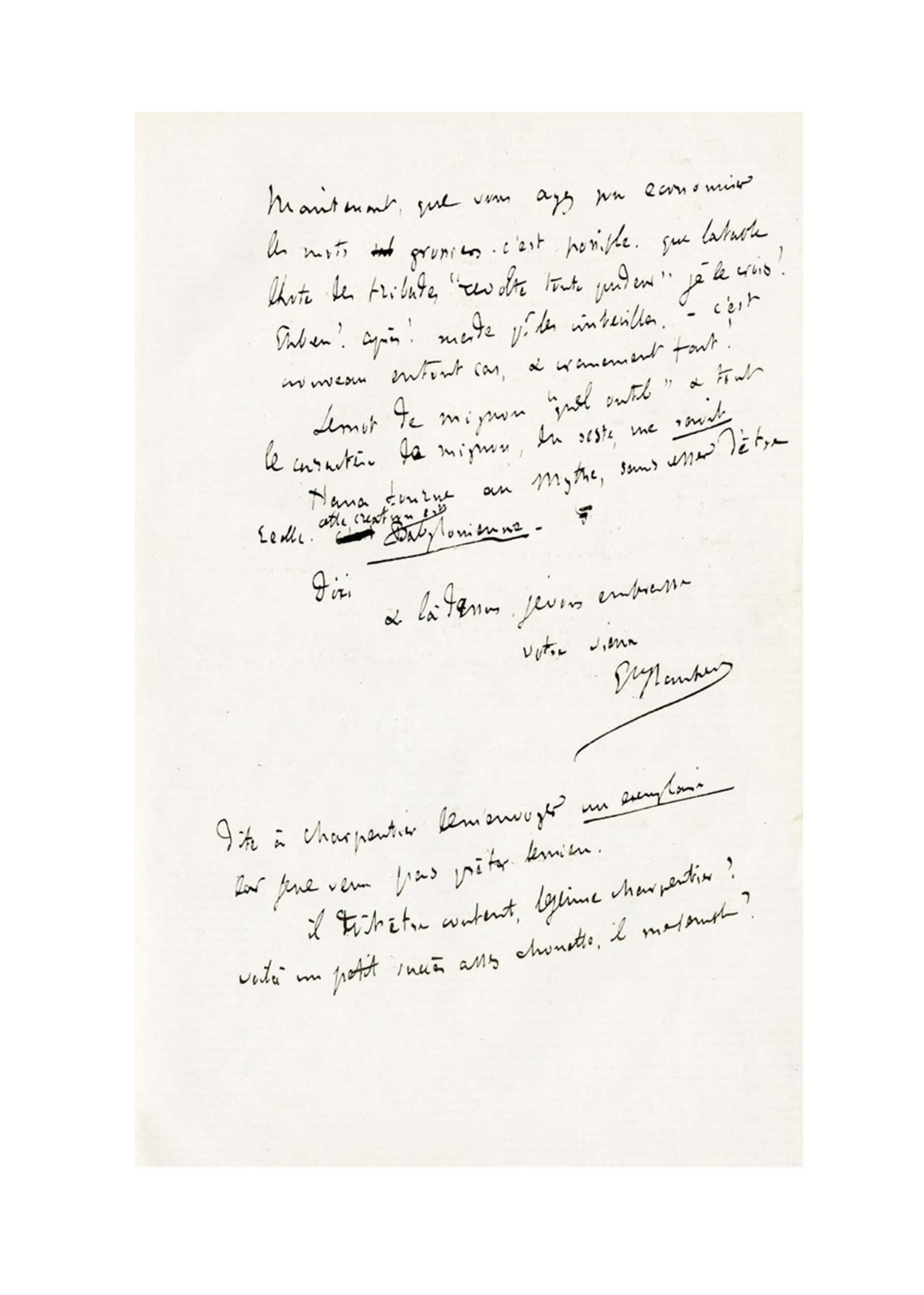 Fact sheet
[ZOLA] FLAUBERT, Gustave (1821-1880)
Autograph letter signed « Votre vieux Gve Flaubert » to Emile Zola
Croisset, Sunday [15 février 1880], 3 p. in-8°
Trace of previous mounting on fourth folio
Reaction on the spot after his reading of Nana
Unquestionably the most emblematic of all his letters to his friend Emile Zola
---
« Mon cher Zola,
J'ai passé hier toute la journée jusqu'à 11 h. 1/2 du soir à lire Nana. – Je n'en ai pas dormi cette nuit, & j'« en demeure stupide ».
Nom de Dieu ! quelles couilles vous avez ! quelles boules !
S'il fallait noter tout ce qui s'y trouve de rare & de fort, je ferais un commentaire à toutes les pages ! Les caractères sont merveilleux de vérité. Les mots nature foisonnent ; et la fin, la mort de Nana, est michelangelesque !
Un livre énorme, mon bon !
Voici les p. que j'ai cornées (dans l'excès de mon enthousiasme, – & à une première lecture)
33.                       (82, 87, un peu de longueur ?
45, 46.                             ou plutôt de lenteur.)51-52.      134.
79.         141.                     205. Mignon ! avec ses
105.        146.                         fils ! ineffable de
108.        156.                         Beauté !
126.        173
130.        192 (adorable)
195 id.
La vision de Me d'Anglars !
239.
256. Mais ce qui précède : la nuit passée dans les rues est moins personnelle. – Il était du reste, le plan donné, impossible de faire autrement. Car il fallait amener le « couchons-nous » – qui est excellent.
Tout ce qui regarde Fontan, parfait.
295.
Tout le ch. X.
377 ! « viens donc ! viens donc ! »
N.B. 401 « entre Le Havre & Trouville », impossible ! mettez Honfleur –
415. plein de grandeur, épique, sublime !
427. La paternité de tous ces messieurs, adorable.
459.
Le suicide de Georges & sa mère arrivant en même temps : ce n'est pas du mélodrame (bien que certainement on le le dira dira que c'en est). – Car l'effet résulte des caractères – & des événements ingénieusement combinés.
483. très grand, très gd !
489.-90. Comme c'est vrai & intense !
500.
504. rien de plus haut.
XIV. Au-dessus de tout ! – Oui ! nom de dieu ! sans pareil –
Maintenant, que vous ayez pu économiser les mots sal grossiers, c'est possible. que la table d'hôte des tribades « révolte toute pudeur » je le crois ! Eh bien ? après ! merde pr les imbécilles ! – c'est nouveau en tout cas, & crânement fait !
Le mot de Mignon « quel outil » & tout le caractère de Mignon, du reste, me ravit.
Nana tourne au Mythe, sans cesser d'être réelle. C'est Cette création est Babylonienne.
Dixi.
& là-dessus, je vous embrasse.
Votre vieux
Gve Flaubert
Dite à Charpentier de m'envoyer un exemplaire car je ne veux pas prêter le mien.
Il doit être content, le jeune Charpentier ? voilà un petit succès assez chouette, il me semble ? »
---
This missive, the last major literary letter from the "father of naturalists" to his friend Zola, was written less than two months before his passing. Flaubert indulges without restraint in comments of great precision, sometimes laudatory, sometimes more critical, as he wishes to address his friend frankly with no compromise. He corners the pages of the copy sent by Zola a few days earlier, corresponding to the passages that particularly marked him.
These are true reactions of a novelist such as Flaubert: feelings are noted, names are underlined. Flaubert is interested in scenes, secondary characters, and the technique of composition.
Published three years after L'Assommoir, Zola pursues a painting where illusions and raw reality are intertwined. Nana is the eponymous heroine of the ninth volume of the Rougon-Macquart saga, published in 1880. Nana was a huge success in bookstores even if some of its contemporaries called the author a writer of pornography. The young lorette [prostitute], reviving all concupiscence, offers her body, of ostentatious sensuality, to the aristocrat world of Paris. Like the demi-mondaines that the Second Empire gave birth to – such as Blanche d'Antigny, Valtesse de La Bigne, Hortense Schneider or Cora Pearl (and by whom Zola was strongly inspired) – Nana plays with her fate in the bed of her lovers. The writer composed a novel as moral as it is amoral and addressed both ends of a flawed society under the Second Empire. But her unbridled heroine is not a free woman. Mother – still heredity – she will perish abandoned, ruined, contaminated by her son whom she wanted to accompany in his last moments.
Famous letter, almost always reproduced in the works and books dedicated to the two novelists.
Bibliography:
Gustave Flaubert, Correspondance, éd. J. Bruneau et Y. Leclerc, Pléiade, t. V, p. 883-884
Émile Zola, Les Rougon-Macquart, éd. A. Lanoux et H. Mitterand, Pléiade, t. II, p. 1695
Provenance:
Personnal collection of Émile Zola, n°19
Then Alexandrine Zola, by descent
Then famille Le Blond-Zola, by descent