[RIMBAUD] DELAHAYE, Ernest (1853-1930)
Autograph letter signed  "Ernest Delahaye" à Marcel Coulon
Maisons-Laffitte, 8th June 1929, 2 p. in-12, autograph envelope attached
"I will wait « gluttinously », as the man of A Season in Hell would say"
SOLD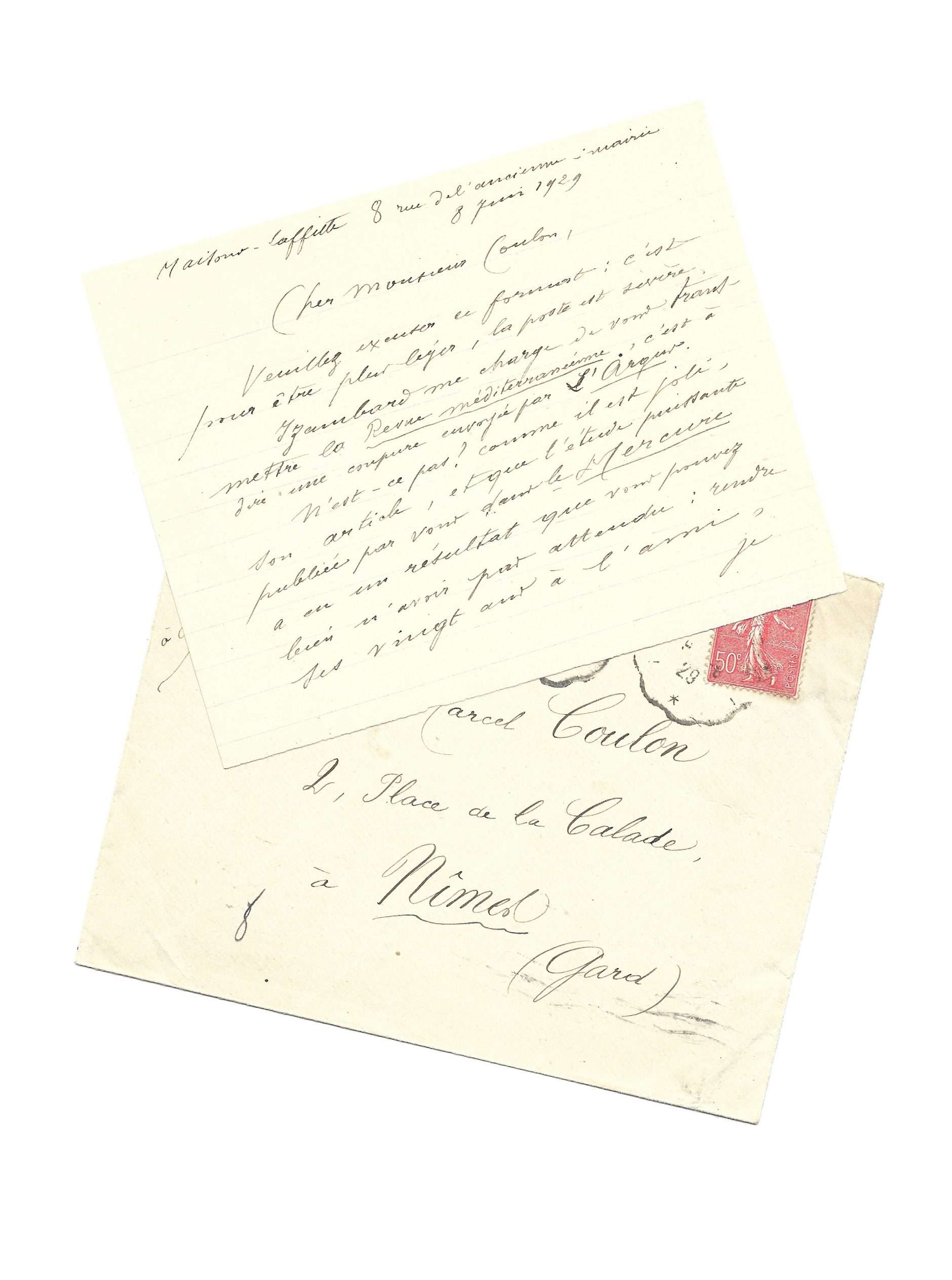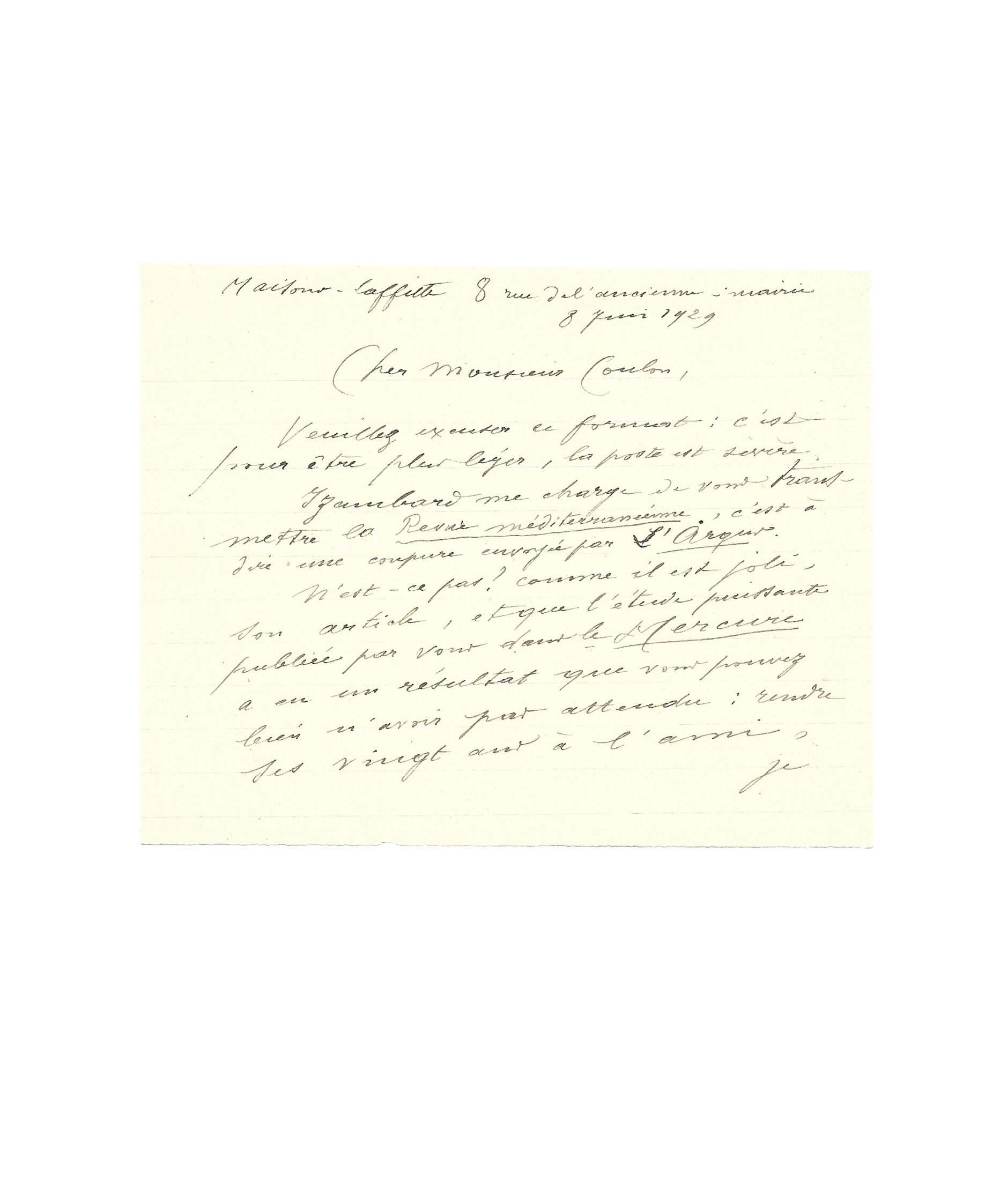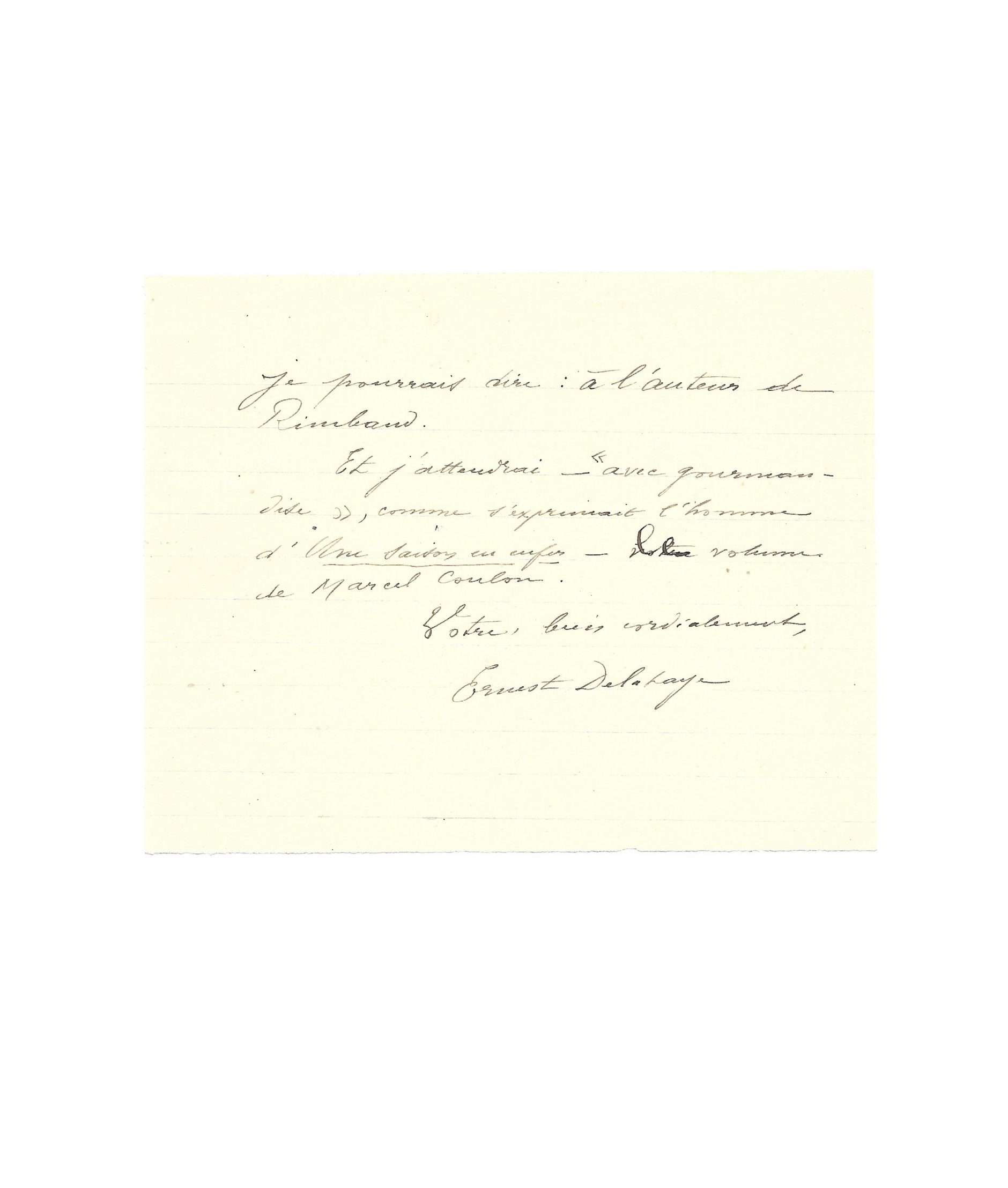 Fact sheet
[RIMBAUD] DELAHAYE, Ernest (1853-1930)
Autograph letter signed  "Ernest Delahaye" à Marcel Coulon
Maisons-Laffitte, 8th June 1929, 2 p. in-12, autograph envelope attached
Nice letter from Rimbaud's childhood friend, quoting Bad Blood while waiting for a next volume dedicated to the poet
---
"Cher Monsieur Coulon,
Veuillez excuser ce format : c'est pour être plus léger, la poste est sévère.
[Georges] Izambard me charge de vous transmettre la Revue Méditerranéenne, c'est-à-dire une coupure envoyée par l'Argus.
N'est-ce pas ? Comme il est joli, son article, et que l'étude puissante publiée par vous dans le Mercure a eu un résultat que vous pouvez bien ne pas avoir attendu : rendre ses vingt ans à l'ami. Je pourrai dire : à l'auteur de Rimbaud.
Et j'attendrai – « avec gourmandise », comme s'exprimerait l'homme d'Une Saison en Enfer – ce volume de Marcel Coulon.
Votre, bien cordialement,
Ernest Delahaye"
---
Delahaye refers here to the article published by Georges Izambard (1848-1931) « Les lettres truquées d'Arthur R. », La Revue méditerranéenne [Tunis], avr. 1929, p. 737-744.
Georges Izambard was a professor of rhetoric who had Arthur Rimbaud as his pupil and with whom he befriended.
Ce que Delahaye attend "gluttinously" is Marcel Coulon's forthcoming work La vie de Rimbaud et son œuvre, Mercure de France, 1929.
"Gluttinously" is an allusion to one of the most famous poems of A Season in Hell : bad Blood.
"I wait gluttinously for God.
I've been of inferior race from all eternity"